An Iowa man who was known to police because of his several run-ins with officers and who had been banned from his daughter's high school after waving a Confederate flag has been charged with murder in the ambush-style killings of two police officers, Reuters reports.
Scott Michael Greene, 46, was arrested after turning himself in to authorities just hours after officials say he killed two police officers in their squad cars in two separate shootings that police have labeled "ambush-style." Justin Martin, a 24-year-old Urbandale officer, and 38-year-old Des Moines Police Sgt. Anthony Bemino were both killed just about 2 miles away from each other.
After his arrest, Greene was hospitalized for a pre-existing medical condition. According to the newswire, police have not commented on a motive for the attacks.
If convicted in the killings, Greene faces an automatic life sentence with no chance of parole.
A police dog also recovered what is believed to be the rifle used in the killings. The weapon was hidden in a wooded area near where Greene's pickup truck was found abandoned off the road, Des Moines Police Department spokesman Sgt. Paul Parizek said.
G/O Media may get a commission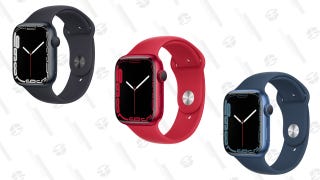 Up To $45 Off
Apple Watch Series 7
Parizek said he did not know if Greene suffered from mental illness, but said that Greene had been "quiet and out of it," since his arrest.
Read more at the New York Post.