An Iowa man suspected of killing two Iowa police officers in separate "ambush-style attacks" as they sat in their squad cars has not yet been charged for his alleged involvement and remained hospitalized Thursday for treatment of an existing medical condition, Reuters reports.
Scott Michael Greene, 46, was arrested after turning himself in hours after the shootings Wednesday in Des Moines, Iowa, and a suburb, Urbandale.
"He's still at the area hospital, and I cannot release any medical information at this time," Urbandale Police Department spokesman Sgt. Chad Underwood said, according to the newswire.
According to Reuters, the body of Urbandale Police Officer Justin Martin, 24, was found in his cruiser near a local high school, the grounds from which Greene had been expelled by police last month after waving a Confederate flag during a football game.
The body of Des Moines Police Sgt. Anthony Bemino, 38, was found some two minutes later, about 2 miles away from Martin's.
G/O Media may get a commission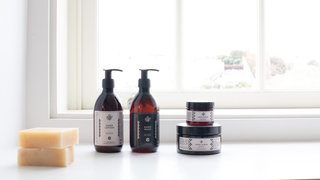 Exfoliate and Hydrate
The Handmade Soap Company
Meanwhile, a police search dog found in a wooded area a gun believed to be the weapon that was used to kill the two officers, the Chicago Tribune reports.
Des Moines police spokesman Sgt. Paul Parizek said the weapon was discovered Wednesday "where no person probably could have found it," though he declined to provide additional details.
Urbandale Police Chief Ross McCarty acknowledged that his officers were familiar with Greene. In 2014, according to Reuters, Greene pleaded guilty to interference with official acts in an incident involving police.
The Chicago Tribune notes that also in 2014, Urbandale police responded to a complaint of harassment at the apartment complex where Greene lived. The complaint said that he threatened to kill another man during a parking lot confrontation and shouted a racial slur used against black people. Greene pleaded guilty and got a suspended jail sentence and a year of probation.
According to the Tribune, the officer wrote that Greene had followed the terms of his probation, noting that he had gotten a mental-health evaluation and "reports to have complied with the medication recommendations."
Reports also indicate that Greene had been living with his mother, who had moved out of the house after a fight with her son, in an incident that resulted in her being charged with misdemeanor domestic abuse. Greene had accused his mother of scratching and hitting his face, capturing their fight on cellphone, which he used as evidence of assault.
Read more at Raw Story and the Chicago Tribune.