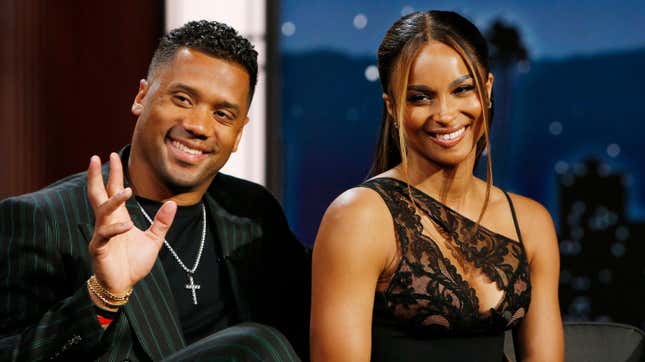 Ciara and Russell Wilson shared some big news with the rest of the world on Tuesday: they're adding another bundle of joy to their blended family!
Michael Oher On New Book, NFL, The Jets, Aaron Rodgers, Running Backs Contracts & He Sings!
The news was announced in a joint Instagram post from the couple which featured Cici standing at the head of a pool facing the camera as her recently released song "How We Roll" played in the background. As the lyrics "you look at me like that again, we gon' make another kid" played, the Goodies artist turned to the side to reveal her baby bump before dancing smoothly to the beat. (Which admittedly, was a sweet as hell and creative way to announce a pregnancy, in my opinion.)
In his separate post, Russell simply echoed: "That's just how we roll."
Per People, a source close to couple shared that Ciara had a lot of energy during the early stages of her pregnancy but that having a lot of kids was something both she and her NFL superstar husband have always wanted.
"Ciara has been working and traveling all through her pregnancy. She shot the 'How We Roll' video while pregnant. She was dancing on set all day long for a full day's shoot," they said. "It's astonishing how much energy she has when she's pregnant."
They continued: "She's one of those mothers who has energy throughout her whole pregnancy. She always calls her life organized chaos — but it's organized chaos taking it up another notch. She loves being a mother so this is what she loves doing. This is what she has always wanted, and Russ too. They've always wanted a lot of kids."
This new bundle will make baby number four for the family, joining siblings Future Zahir, 9, with whom she had in a previous relationship with rapper Future; daughter Sienna Princess, 6; and 3-year-old son Win—the latter two she welcomed with Russell.
Congratulations to the happy couple, The Root wishes Cici a happy and healthy pregnancy!