Gucci, one of hip-hop's favorite fashion houses, paid Rihanna less for her services because she is Caribbean, says a former company employee.
In a discrimination lawsuit against the company, former Gucci tax attorney Josephine Robinson charges that her supervisor, Stan Sherwood, ordered her to "tax the hell" out of the singer for an ad campaign she did for Gucci after finding out that Rihanna was from Barbados and not a U.S. citizen.
"When Sherwood discovered that Rihanna was from a Caribbean island, he told Robinson to 'tax the hell out of her' and find a way to allow Gucci to withhold 30 percent of her fee," Robinson's lawsuit alleges, according to the New York Post.
Robinson makes the accusations as part of a $5 million lawsuit against Gucci for what she charges were numerous racist comments and jokes made by Sherwood and others, and wrongful termination after she complained. Rihanna is not a party to the lawsuit.
Responding to the allegations, a Gucci spokeswoman told the New York Post: "Ms. Robinson's allegations are completely baseless, and the company will defend itself vigorously against this meritless litigation. The company is confident that it will prevail."
G/O Media may get a commission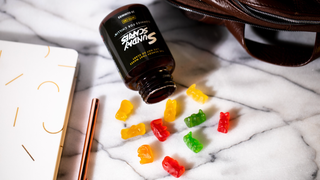 10mg CBD Gummies (22-Count)
Gucci better hope so, before rappers like Gucci Mane switch to Versace.
Read more at the New York Post.
In other news: Jennifer Hudson to Write Weight-Loss Book.