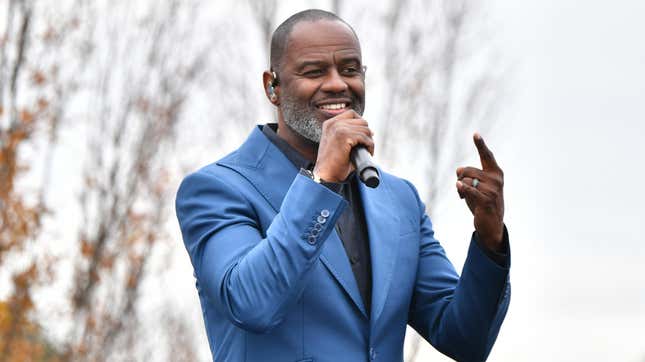 No one had "Brian McKnight addresses accusations of being a deadbeat dad" on their 2023 bingo card but here we are. Then again, even Succession's Logan Roy (if he was was a real person) wouldn't disown his three children and talk shit about it in a video on social media.
Making Love Songs: The Story Behind Dionne Warwick's "I Say A Little Prayer"
But McKnight, the famous crooner we all used to love, did more than that. The internet had a lot to say about the R&B singer showing more love to his stepchildren than his own biological kids. However, the star took to Instagram story Friday (May 12) to defend himself against the rumors that have been swirling for months.
His problems stem from a 2020 Instagram post that has recently resurfaced in which the singer wrote this caption to his stepdaughter:

"Jules I became a girl dad because of YOU and I couldn't have asked for a better daughter. Visiting you on campus and seeing how happy you are living in this beach house with all your friends for your senior year reminded us both of how proud we are of the woman you have become and the incredible student you continue to be. Here's to you Jules the perfect daughter I always wanted."
The gag is McKnight already has a daughter and three other children outside of his relationship with wife Leilani Mendoza. Mendoza has three children from a previous relationship (who McKnight raises as his stepchildren) and one with McKnight (who they named Brian even though McKnight already has a son named Brian Jr.).
In a different Instagram post, McKnight said: "For the very first time in my life, I got to experience what it's like to want to and plan to have a child made from love." He also wrote that "he's never been "prouder in [his] life being the father" to his three stepchildren and called his youngest child, Brian, his "true heir."
According To RadarOnline.com, McKnight recently settled a lawsuit filed in 2020 by his estranged daughter Briana. The documents accused McKnight of "maliciously defam[ing]" Briana on social media. She said her father was driven by "animosity" when he "publicly humiliated" her. Briana also stated that to his online followers, McKnight "falsely" represented that she "had some years earlier, and while a minor, engaged in sexual relations with an older cousin."
On Friday, McKnight shared his thoughts in a video where he stated: "I never abandoned anyone. Our estrangement was mutual. But those posts made any roads towards reconciliation and acknowledging them a dead issue. And I changed my will the next day." Sadly, he didn't stop there and talked about how he is the victim of slander.
"I've spent the last 30-plus years building a recognized, respectable name. And ironically, there are still people out there who are trying to smear my name while still carrying it, hoping to use it for their own benefit."
McKnight then addressed the controversy of naming his youngest son Brian Jr. "I make absolutely no apologies for naming my infant son Brian.
"I want him and the world to know that he is the one who is my true legacy," he stated. "So I'll be over here continuing to love and protect my wife, and our children, as we continue to love our life."
Not only was his defense raggedy and asinine, but it makes his children look disposable when they are human beings who seemingly wanted a relationship with their father. Hopefully, this will be an end to the McKnight family drama—though we doubt it.