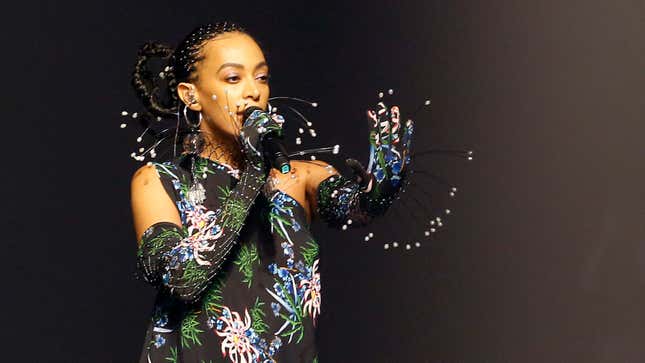 How do you end an era of fashion? If you're longtime Kenzo designers Carol Lim and Humberto Leon, you want to make your exit even more fashionable than your entrance, which the duo did when presenting their final Men and Women Spring Summer 2020 Fashion Show in Paris on Sunday.
Sending them off in style was the one and only Solange Knowles, a close friend of the brand who was on hand to celebrate the tenure of Lim and Leon, the first Asian-Americans to hold artistic director positions at parent company LVMH. To mark the occasion, Knowles, who notably also celebrated her 33rd birthday on Monday, not only took to the catwalk wearing one of the duo's custom designs, she also composed, conducted and performed an original composition, complete with a horn section.

Of course, as intriguing as it always is to hear and see Solange perform, her incredible look for the occasion was also show-stopping, and not just because she was wearing one of Kenzo's stunning floral dresses. Hairstylist and Dazed magazine's contributing beauty editor Jawara Wauchope created yet another of Solange's now-iconic braided looks, which perfectly complemented her graceful gown and matching elbow-length gloves.
Speaking with Vogue, Wauchope confirmed what we could've all guessed: "The inspiration for the hair on Solange came from Solange herself," he said. "She wanted something with structure, like a sculpture, and she wanted to be able to see the detail from afar, that would go great with the look Kenzo designed for her."

Breaking down the construction of the sculptural style, Wauchope says he started with "with really small sectioning, we call them microbraids ... Then we took the braids and tied it into a ponytail in the back of her head, not too low. Then we created five big braids out of the ponytail, and in the big braids, I braided in fine black wire." Using a satellite-like pearl-adorned headpiece which matched the netted adornments on Solange's gloves, Wauchope then "scuttled the braids into a great form and pinned it into place, along with the beautiful headdress."
The effect? As ethereal as Solange's music, which you can hear for yourself, as the show was thankfully captured for social media. If you're more interested in Solange's composition than the fashion, we suggest starting around the 3:15 mark.
But no need to worry about Lim and Leon; the two may have "quit the artistic direction of Kenzo," as reported by Refinery29, but as of July they will be turning their attention to the brand they co-founded, the always of-the-moment Opening Ceremony. Nevertheless, they will be missed at the LVMH-based brand, as noted by Kenzo CEO Sidney Toledano in a statement:
"Humberto and Carol consistently brought diversity and inclusion to the forefront at Kenzo, using their collections, fashion shows, advertising, and special projects to engage and galvanize a new generation of creatives."