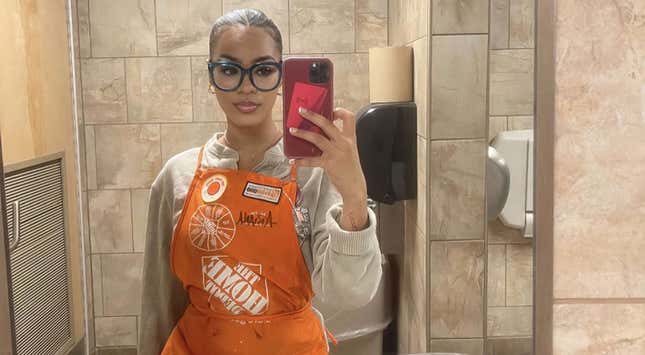 Over the weekend, a young Houston woman went viral for posting a photo of herself on break during her shift at Home Depot. Alongside the picture on Twitter, she wrote "the one job I work at that I get reminded i'm to pretty to work at." The tweet has viewed nearly 30 million times and garnered over 100,000 likes.
Beyoncé Becomes The Queen of The Grammys With Record Wins
The responses to the photo have been interestingly rooted in misogyny. One user replied: "I know shawty a good woman...she coulda made an onlyfans but she got a real job and it's an honest living." The young woman who posted the photo, who goes by @ariijosephine on Twitter, clarified the questions asked by those intrigued by her work.
She clarified that Home Depot is her college job that offers good benefits and that she mixes paint at the store. The Texas woman also stated: "Last thing I'm going to say is, I don't think I am too pretty to work anywhere. I work at Home Depot because it's a decent job that pays good while i'm in school. Please stop taking social media to heart. God bless."
She made it a point to state that she'll never make an OnlyFans and that her father told her that "all money ain't good money." However, there is absolutely nothing wrong with using OnlyFans to make money, nor is there anything "bad" or "dishonest" about it. The fact that this young lady was able to be recognized for her beauty without showing off her body is great.
However, women who get complimented for photos that show off their figure, regardless of how small or big it is, is also great. "Home Depot Girl" shouldn't be used to tear down sex workers, but in a patriarchal society women cannot exist unless it's in relation to how they please men and how they compare to other women.
Also, gender stereotyping makes it hard to believe that an attractive woman would willingly work at Home Depot in 2023. This viral moment not only reminded us of how rampant sexism is, but how the narrative around the roles women can hold needs to desperately change.