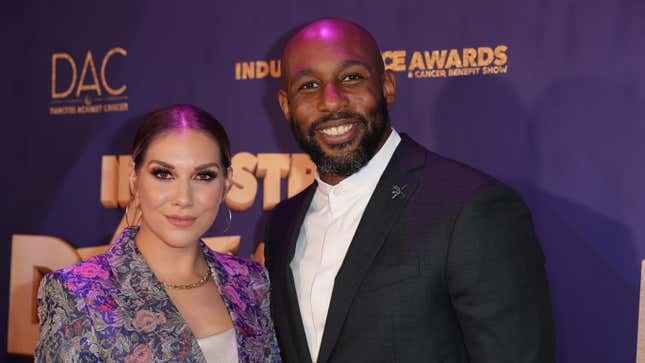 Allison Holker Boss, the widow of beloved dancer and TV personality Stephen "tWitch" Boss, has asked a court to grant her control of her late husband's half of their joint estate.
Per court documents obtained by People on Wednesday, the popular choreographer died without a will. But before his wife can legally receive the assets he left behind, she had to file a California Spousal Property Petition in the Superior Court of California. This move is required by law in order to ensure that she's actually his spouse, even though the state of California says that the surviving spouse is entitled to their deceased spouse's half of their joint estate.
People has more:
In the filing, Allison is asking for a "determination of property passing to the surviving spouse" as well as "confirmation of property belonging to the surviving spouse."

The filing details property, including quasi-community property, that Allison wants the court to rule she will receive as Stephen's surviving spouse.

"This includes any interest in a trade or business name of any unincorporated business or an interest in any unincorporated business that the deceased partner was operating or managing at the time of death," court documents state in part. Allison is not asking for administration over Stephen's estate.
As People also notes, tWitch was recently honored by the charity of his friend and former daytime talk show host Ellen DeGeneres. On Tuesday, The Ellen Campus of the Dian Fossey Gorilla Fund in Rwanda paid tribute to him by planting a tree in memory of the light and joy he brought to the world. The organization shared the news in a post to Instagram, captioning:
"As we celebrated the one-year anniversary of our Ellen Campus this past week, we took a moment to recognize a very special person who left us too soon. tWitch brought light to so many and was a wonderful friend to @ellendegeneres In his honor we planted this tree so he will be forever remembered on the campus."