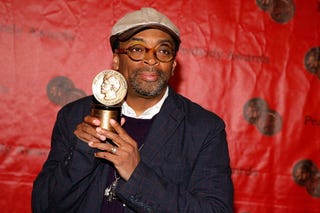 Remember there were talks of a sequel to one of Spike Lee's best movies, Inside Man? Well, in this interview with Charlie Rose, Lee says that he hasn't been able to get the film bank-rolled, so "it's not going to happen."
"Inside Man was my most successful film," he said, adding that he had Washington and Foster on board for the sequel. "But we can't get the sequel made. And one thing Hollywood does well is sequels. The film's not getting made. We tried many times."
After being awarded the Lifetime Achievement Award by PromaxBDA, he talked with Rose about why the Academy Awards don't matter, LeBron James, acting and whether President Obama will be re-elected.
Read more at the Hollywood Reporter.
In other news: Nike Re-Signs Michael Vick.