In a noble attempt to boost the Trump administration's record-low unemployment numbers, a South Carolina man has been indicted on charges he reached out to undercover FBI agents posing as white supremacists, and offered them $500 to kill his black neighbor, hang him from a tree and burn a cross on his lawn.
After checking the stock market prices, I knew the hate crime industry had been experiencing an uptick since Jan. 20, 2017 (I can't quite figure out what happened on that date), but apparently, South Carolina has some of the best rates for lynching in the country!
According to the Post and Courier, federal agents began investigating accused white supremacy job broker Brandon Cory Lecroy after a confidential source informed federal agents that Lecroy said he needed "assistance with the murder of his African-American neighbor." Instead of posting an ad on Craigslist or Monster, authorities say, Lecroy reached out to a white supremacist group because apparently he believes in keeping his money in the white community.
After receiving the tip, an undercover agent spoke with Lecroy, whose last name is pronounced like the unseasoned sparkling water I believe is part of a plot to gentrify African-American taste buds. La Croix is the Panera Bread of sodas. I wouldn't be surprised if a pop-up La Croix shop appeared in Brooklyn, N.Y., tomorrow. La Croix tastes like Caucasian Sprite. It tastes like Taylor Swift music and comma-separated values. La Croix is ginger ale with low self-esteem. It's ... The Root Deputy Managing Editor Yesha Callahan's favorite water.
G/O Media may get a commission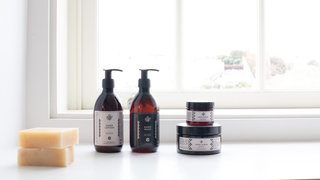 Exfoliate and Hydrate
The Handmade Soap Company
You know what? Maybe I'm getting off track.
According to the criminal complaint, Mr. Wypipo Water told an undercover agent, "$500 and he's a ghost." The court documents indicate that Lecroy asked for a custom killing that included hanging his neighbor from a tree and a "flaming cross on the front lawn."
Two days later, the 25-year-old Lecroy spoke to the agent again, asking for an untraceable 9 mm handgun, and told the undercover officer "that he has more jobs for him in the future."
Wait ... he's 25? I think we might have posted the wrong picture. Hold on for a sec while I check.
The photo is correct. Apparently, that's what drinking La Croix will do to you.
The Hodges, S.C., resident then met with the agent on April 19 to put a down payment on his layaway murder-for-hire plot, authorities say. Instead of writing a postdated check with "for hate crime" in the memo section (a practice that is frowned upon in the lynching industry), prosecutors say, Lecroy paid in cash and acknowledged that the payment was for killing his neighbor. He also discussed future targets with the undercover fed.
Lecroy was arrested the next day. On Tuesday, the U.S. attorney's office announced that Lecroy had been indicted on charges of solicitation to commit a crime of violence and use of interstate commerce facilities in the commission of murder for hire.
Lecroy is being held at a Massachusetts hospital after a judge ordered that he undergo a psychiatric evaluation. If convicted, Brandon Lecroy faces a $250,000 fine and 10 years in prison with neighbors who call him "Brenda."
Authorities have not charged the company that makes La Croix with a hate crime ...
Yet.