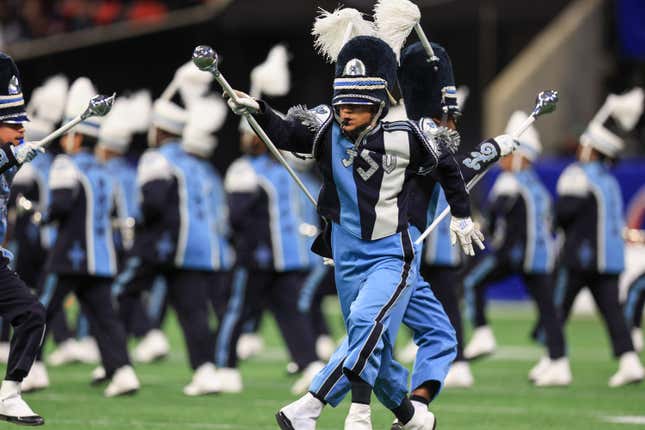 The first HBCU marching band competition is finally coming to fruition this year. Contrasting to the legendary Battle of the Bands which is a kickoff to the marching season and a showcase of the bands, the Band of the Year National Championship will be crowning two winning bands at the end of the fall season.

If You Take One Lesson From Juneteenth, Let It Be This One
This announcement was given by the executive director of the Cricket MEAC/SWAC Challenge and Celebration Bowl, John T. Grant saying, "Not only with the road consists of football and the crowning of a national champion at the Cricket Celebration Bowl, HBCU marching bands from Division I and Division II will compete through the season to earn the right to showcase their talent in Atlanta and vie for the coveted title, 'Band of the Year.'" The band championship is in partnership with ESPN Events, a huge way to bring more awareness to HBCU culture.
The judging will be led by Don Roberts who is a former drum major for Florida A&M and was a band consultant for Beyoncé's Coachella Homecoming performance and the Drumline movies.
The process will take place over the fall marching season with the bands receiving weekly evaluations based on their halftime performances and the rankings will be released twice a month on ESPN.com. Performances by the bands will be posted on the website as well!
Division I and II band directors will be on the board and will each judge both divisions. According to Grant, judges will be observing "precision, musicality, originality, your drumline, drum majors, and dance lines." The top two bands from each division will compete against each other live for the title of 'Band of the Year' at the Cricket Celebration Bowl on December 12, 2023, at the Mercedes-Benz Stadium in Atlanta, Georgia.
Adding the marching band element to the Celebration Bowl weekend will only further the visibility and community for HBCU culture as people will already be there for tailgating, and watching the football game, resembling a traditional homecoming weekend! You can buy your tickets to watch the Band of the Year in October at ESPNBandofTheYear.com.