Laughter has healing power. And with the violent climate plaguing not only our own country but the entire world, it's obvious that we need healing right now. That's where activist, writer and filmmaker Agunda Okeyo comes in. She understands that joy battles pain, and so she's married her love of activism with dynamic black comediennes to create Sisters of Comedy.
"We are in a very dark time as a nation, given the numerous church burnings, school closures, police shootings, sexual assault, domestic violence, mass incarceration and all manner of violence that black folks must contend with," says Okeyo. "We have to find an outlet because self-care is important when we're constantly consuming headline after news report after violent viral video."
Comedy is Okeyo's outlet, and her show Sisters of Comedy is on a mission to heal the world, one laugh at a time.
Okeyo invited The Root to the show at the legendary Carolines comedy club in New York City, and after laughing till we cried (no, really, there were tears), we chatted with her about the show and its impact on the comedy scene and our culture.
"The mission of the showcase is to celebrate the diversity of black funny women in stand-up. In doing so, we liberate ourselves as artists, expose biases in the industry and also alert people to the diversity of talented, working black women in stand-up," Okeyo told us as audience members buzzed around her and two members of her cast, Chloe Hilliard and Hadiyah Robinson.
G/O Media may get a commission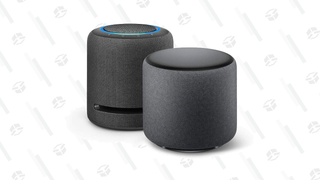 25% off - Prime Exclusive
Echo Studio + Echo Sub Bundle
"I just loved it!" I heard a woman coo to Okeyo as she grabbed her hands. "It was perfect," said the woman as she smiled at Okeyo one last time before walking away.
It's comments like these that the world should hear. While Okeyo is doing her part by shining light on black women in comedy, the industry doesn't seem to mimic her sentiments. Working black women in stand-up, as Okeyo has said, are plenty, but they don't always get the opportunities they deserve.  
A couple of years ago, before Saturday Night Live welcomed its first black female cast member since 2007, Sasheer Zamata (who joined in 2014), black cast member Kenan Thompson said that SNL never found black women who were "ready" to be a part of their cast. If that's what our own people think of black women in comedy, can you imagine what the powers that be think?
Okeyo says, "Comedy is one the most powerful, transgressive and inspiring forms of public speaking. Laughter is revolutionary in transforming and translating the experience of being human." Okeyo's cast of comediennes does just that.
From jokes about men catcalling us with names we could never live up to, like, "empress," to asking the audience to help them get through swiping left and right on an app to go on dates, these women make light of the discrimination, sexualization and all other "-tions" we face.
Okeyo says, "Comedy is about recognizing the power of free, smart speech that empowers both the performer and her audience." This is comedy with a purpose. If one person leaves Okeyo's show feeling uplifted in any way, then she's done her job. We can confirm that Sisters of Comedy has its finger on the pulse of the black woman's plight, and there's something magical about the way comedy comments on our cultural struggles.
"Humor is our refuge as black people and as women. It allows us to laugh at those that seek to disempower us, and share the healing power of laughter with men and women of all stripes," Okeyo proudly admits.
And she has every reason to be proud. Sisters of Comedy has made history this year as the only all-black-women comedy show at any of the top comedy clubs in New York City. That's no easy feat, especially for a black girl in comedy.
Okeyo has merged her artistry and activism for a show that's sure to enlighten you and tighten your tummy in nonstop laughs. And she's not stopping there. Okeyo's got big plans for her comedy.
"I want to tour Sisters of Comedy nationally. I'm also working on a major comedy show with the coalition behind the Equal Rights Amendment, the amendment that assures women's equal rights under that law. It's been nearly 100 years in the making, and now is the time to push the agenda."
There is no shortage of barriers breaking in the black community, because we have so many barriers against us. Agunda Okeyo and her lineup of performers from the Nov. 18 show we attended—Chloe Hilliard, Hadiyah Robinson, Erin Jackson, Ndidi Oriji, Michelle Buteau, and a special guest: BET, CNN and Centric's own Michaela angela Davis (Okeyo's event had the legendary Gloria Steinem on the roster, too, for the "Revolutionary Power of Laughter" segment, to which both Davis and Steinem contributed)—prove that barriers are meant to be broken, and these "Sisters of Comedy" do so flawlessly.
Okeyo, who started Sisters of Comedy nearly two years ago, says, "We started at one of the major clubs—Gotham Comedy Club—and November was our Broadway premiere. I'm thrilled to be at Caroline's on Broadway. Only on two occasions has the showcase featured guests other than black women. Having smart, vocal activist Michaela Angela Davis join us in November was wonderful. I'm grateful to Gloria and Michaela for showing their solidarity for the showcase by getting up onstage. We will have other vocal, creative women join the lineup as the show progresses."