Updated Tuesday, Sept. 8, 11:04 p.m.: Serena Williams took three sets to defeat her sister Venus and advance to the semifinals of the U.S. Open. After her 6-2, 1-6, 6-3 quarterfinal win, she is still on track to achieve a calendar grand slam with a victory in Saturday's women's final.
Earlier:
In what is arguably the biggest sibling rivalry in sports history, Venus and Serena Williams will face each other for the 27th time in their storied careers on Tuesday during the quarterfinals of the U.S. Open. The match comes at a time when Serena is on the verge of making history: winning a calendar grand slam for the first time since 1988, when Steffi Graf last achieved the feat.
While their matches have been intense, the rivalry is anything but bitter. When asked about playing her sister in the quarterfinals, Serena said, "We really relish the opportunity. We're both happy to still be involved in getting so far. And it's still super intense. She's doing well and she wants to win this. So do I. It's not easy."
Here are some facts about the greatest sister act in sports.
1. The first time they played against each other professionally was at the 1998 Australian Open. This was the beginning of the beads-and-cornrows era, when the two sisters from Compton, Calif., gave the world its first taste of a more colorful tennis future. A then-17-year-old Venus beat baby sis in the second round 7-6, 6-1. Serena, who was 16 at the time, was playing in her first grand slam.
G/O Media may get a commission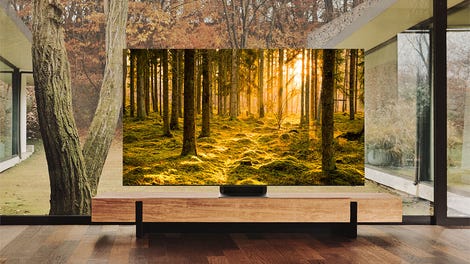 Up to 40% off
Samsung Smart TVs
2. Serena has the edge in wins: 15-11. In the beginning of their rivalry, big sister Venus was the leader, winning the first four out of five matches and their first grand-slam final in 2001 at the U.S. Open. But since 2002, Serena has been the dominant one, beginning with her first Serena Slam, holding all four major titles at the same time. Serena is also 8-5 in grand-slam tournaments and 6-2 in grand-slam finals against her big sis.
3. Speaking of the Serena Slam, Serena had to defeat Venus in all four finals. This had to be the toughest stretch in their rivalry. Not only did Serena beat Venus to hold all four major titles—the 2002 French Open, 2002 Wimbledon, 2002 U.S. Open and 2003 Australian Open—but Serena also beat Venus in the 2003 Wimbledon final, making it five grand slams in a row.
4. The last time Venus beat Serena at a grand-slam event was in 2008. It also happened to be in the Wimbledon finals that year. The last time the sisters faced each other in a grand-slam final was the next year at Wimbledon, which Serena won 7-5, 6-2. The last time they faced each other at a grand-slam tournament was this summer at Wimbledon, where Serena defeated Venus in the round of 16, 6-4, 6-3.
5. But don't count Venus out yet: She beat Serena last year on the hard court at the Rogers Cup in Montreal. Playing on a similar surface as the U.S. Open, Venus, who was unseeded, beat her No. 1-seeded sister 6-7, 6-2, 6-3 in August 2014. It was the first time Venus had beaten Serena in more than five years.