(The Root) — The ladies' relationships got a little complicated in last night's episode of Single Ladies, which was titled "Is This Love?" April (Charity Shea) is still hanging out with Reggie, despite having a hard time with all the attention he's giving other women.
Keisha (LisaRaye McCoy) takes Sean (Terrell Tilford) out to dinner after he returns from Washington, D.C., to close out a court case. Although Sean tries to put the moves on Keisha, she's pumping the brakes at all of his advances. For now.
Raquel (Denise Vasi) goes out with Charles again, and as they walk up to an Indian restaurant, she's shocked to see her fine mechanic boo, Nate (Jamie Moreen), standing right in front of them. She stumbles through a conversation, since she feels guilty for dating two guys at once. Charles senses Raquel's nervousness, and she confesses that she's been juggling love interests. To her surprise, he doesn't get mad, saying, "Of course, I might want you to choose me in the end. But you gotta get there."
Back at the boutique, Shelly (Lauren London) and her city council boo, James (Flex Alexander), show up to pick up a check from Raquel. Terrance, Shelly's ex-boo, shows up to pick up some cashmere sweats and exchanges words with Shelly about their sex tape.
Later, Shelly shows up at the boutique again to take some of the Atlanta Dunks' players to pick up some new clothes. But Shelly's in for a surprise of her own when Omar (Travis Winfrey) finds her sex tape as a trending topic on Twitter. Shelly runs out of the boutique to find James at a campaign press conference. She tells him about the sex tape with Terrance just before he takes the stage — way to put the pressure on him, Shel — and he walks out without saying a word.
G/O Media may get a commission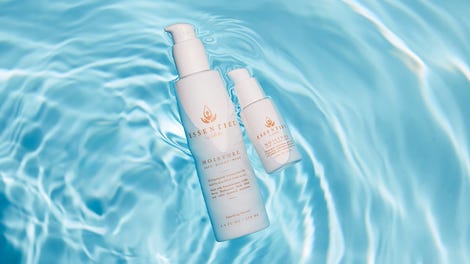 20% off
Essentiel by Adele
Shelly crashes at April's house for the night, when Reggie shows up to check on April after she didn't text him back or return his calls. When he leans in for a hug, April goes all the way in and plants a big kiss on his lips. Embarrassed, she runs back in the house and slams the door in his face.
The next day at the boutique, Raquel rewards Omar for his hard work over the last several months. (A 20 percent raise! Can we work for you, too, Raquel?) Morgan, an applicant for a new sales-assistant position, comes in with her daughter, desperate for a job.
Raquel goes out with Nate again, and she thanks him for being so cool when they ran into each other while she was on a date. He says, "I don't sweat competition. I expect it." (Swoon!) They kiss all the way down to the valet outside of Raquel's apartment but then swiftly decide to go back up for a romp between the sheets. (With, mind you, the perfect sexy song playing in the background: Goapele's "Play.")
At the boutique, Morgan's daughter returns and tries to steal the pair of jeans she'd been eyeing. Instead of calling the police, Raquel calls the girl's mother.
Shelly meets Terrance to talk about the sex-tape scandal. Apparently his friend who stole the tape made a copy and used it to get back at Terrance after he was jumped in the club in a previous episode. But Terrance, ever the hustler trying to make a dollar, says they could turn this situation around, Kim Kardashian style, and make some money off their current bad situation. But Shelly's not having it. She's already been fired and lost the love of her life. This, in her eyes, could only make things worse.
Raquel takes her car back to the shop, and things get a little murky between her and Nate. He calls her his girlfriend, and she freezes up. She tells him that she "isn't ready for that type of exclusivity." And he immediately turns cold on her. Looks like this rough-around-the-edges mechanic was ready to take everything a step further. (Raquel, how could you resist?)
April and Reggie spend more time together and begin to talk about their awkward moment from the night before. April is finally honest with herself and with Reggie, and tells him that she likes him more than a friend. This time he leans in for the kiss, and it looks as if good things are on the horizon for the two of them. Finally, April's luck is turning around!
Sean and Keisha go to dinner together and make it back to Raquel's condo for dessert. But not the kind of cookies you'd expect Keisha to be giving up. While Keisha starts to give in to Sean's advances, they slow it down to a halt when Sean realizes he doesn't have any condoms. (Keisha even uttered that cliché, "No glove, no love," after Sean makes that ridiculous "Let me just put the tip in" plea.)
The next day, Nate shows up at the boutique to apologize for brushing her off at the repair shop. He says he realized that they could never be together because they live totally different lives. Raquel, not able to get in a word to defend herself, stands bewildered as he dismisses her and their budding "relationship."
When James shows up at April's apartment looking for Shelly, she apologizes for the drama with the sex tape and the damage it's done to his campaign. After she makes it clear that she didn't release the sex tape on purpose, she tells him that she'll dissociate herself from him if it'll make things better. But James isn't having it. He says he needs her to come home. (That's love.)
Morgan comes back with her daughter, Nicole, and makes her apologize. But Raquel's more interested in hiring her mother. She offers Morgan the job on the spot for her retail experience and how she handled her daughter in this situation.
Later, Sean shows up (unexpectedly) to surprise Keisha with a gift in the bedroom: dozens of Trojan Magnum condoms on the bed, spelling out "Do me baby." But Keisha scrambles them up to say, "Too soon" before she escorts him out of the bedroom. Is Keisha holding out on Sean because of their past? Perhaps Sean's persistence will win out next week.
Erin E. Evans is a writer in New York. Follow her on Twitter.