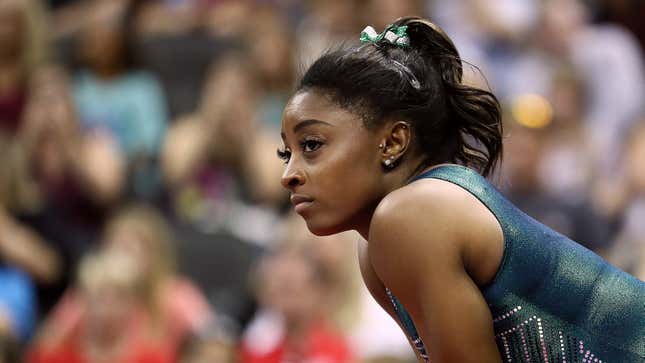 Gymnast Simone Biles released her first public statement Monday following the shocking arrest of her brother, Tevin Biles-Thomas, in connection with three murders in Cleveland.
Small Town Horror Story: The Vietnam Veteran Who Refused To Leave A Man Behind
"Still having a hard time processing last weeks news," wrote Biles on Twitter. She also posted a screenshot of a prepared statement: "My heart aches for everyone involved, especially the victims and their families.
"There is nothing that I can say that will heal anyone's pain, but I do want to express my sincere condolences to everyone affected by this terrible tragedy," Biles continued, before asking people to respect her family's privacy "as we deal with our pain."
Biles-Thomas' arrest was announced Thursday. The 24-year-old soldier is facing multiple murder charges, as well as three counts of voluntary manslaughter, and five counts of felonious assault related to a shooting at an Airbnb in Cleveland on New Year's eve that left three dead, The Washington Post reports:
Police and prosecutors in Ohio say a group of people showed up uninvited to a New Year's Eve party at a Cleveland apartment above a pizzeria that was being rented as an Airbnb. After being asked to leave, a fight broke out and someone in the group started firing a gun at around 11:30 p.m. Devaughn Gibson, a 23-year-old barber; DelVaunte Johnson, a 19-year-old student; and Toshon Banks, a 21-year-old laborer, died of multiple gunshot wounds. Two other people were shot but survived.
The five-time Olympic medalist lived with Biles-Thomas and two sisters in foster care until they were adopted by relatives. Simone was 6 years old when she and one sister were adopted by their grandfather in Texas; her older brother and another sister were taken in by a great-aunt living in Cleveland, the Post reports.
Biles-Thomas was arrested August 29 in Georgia and is currently being held without bond before he's transferred to Cuyahoga County, Ohio. His next court hearing is scheduled for September 13.