In his heyday, Ray Lewis danced before he took to the field. It was a slide-shuffle step that ended with him acting as if he were bursting out of his uniform. On the field, the then-Baltimore Ravens linebacker was ferocious. Since retiring, Lewis has lost all of his emotion and become a hollowed droid of respectability politics for the far right.

He recently argued, after photos and video were released showing him locked in arms with current Ravens players who'd taken a knee to protest the injustices against black America, that he wasn't really riding for the black cause, and that he had, in fact, taken two knees because he's so used to kissing the white man's ass he was praying.
Sounds like Lewis is still dancing, still shuffle-sliding, and people are tired of it, but here's the funny thing: so are the people he can't stop dancing for. As of Thursday, some 52,000 people have signed a petition to have Dancing Ray's statue removed from in front of the M&T Bank Stadium for kneeling during the national anthem.
G/O Media may get a commission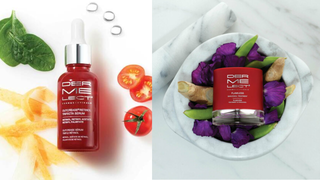 Save $19
Retinol Renewal Kit
"I want the Ray Lewis statue at Ravens Stadium removed because of his refusal to stand during the National Anthem," Eric Moniodis of Hydes, Md., who started the petition, wrote on Change.org.
"That song honors our country and our veterans who fought for it. To kneel during it is disrespectful, regardless of what you are protesting," Moniodis continued. "I will not stand for that kind of disrespect towards our country, especially from a legend such as Ray Lewis. You stand for the National Anthem as a salute to those who can't stand because they fought for this land."
Life comes at you fast, Dancing Ray. Proving that you can't have it both ways, the righteous black community didn't believe you when you knelt. In fact, Twitter had nothing but jokes, because you have proved yourself to be exactly who we know you are.
But good luck with trying to play both sides of the fence, and I hope your statue gets removed, too, but not because you fake-kneeled for the flag; it's because you are too much of a Dancing Ray Lewis to stand up for what's right.
Read more at Change.org.