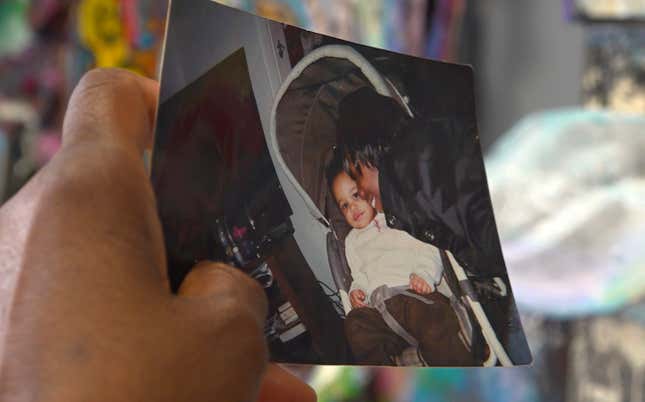 The family of Ta'Kiya Young, a pregnant Black mother who was shot and killed by an Ohio police officer, is renewing it's call for justice amidst the release of new details in the case. At a press conference on Wednesday, Nadine Young, the grandmother of Ta'Kiya Young, accused the police officer who shot her granddaughter of violating department policy. She and her attorney also called for the officers arrest.

Courtney B. Vance in Heist 88 Is Our Black TV Pick of the Week
"She was murdered — her and her baby," said Nadine Young at a Wednesday news conference, according to the Columbus Dispatch.
A Blendon Township, Ohio, officer fatally shot Young, 21, through her windshield in a Kroger's parking lot. In body camera footage released last week, a second officer can be seen yelling at Young to get out of her car, saying she had been accused of stealing.

Another officer approached the car from the front with his weapon drawn on the young pregnant mother. She attempts to pull out, turning her wheel away from the officer, which is when he shoots her through the windshield.
In the online press conference, Young family attorney Sean Walton, says that name of the officer is Connor Grubb. The local police department had yet to release the officer's name. Walton went on to say that Grubb's actions violated his own department's policies, citing their manual.
"When feasible, officers should take reasonable steps to move out of the path of an approaching vehicle or any of its occupants, said Walton, reading from the manual, according to the Columbus Dispatch. "An officer should only discharge a firearm at a moving vehicle or its occupants when the officer reasonably believes there are not other reasonable means available to avert the imminent threat of the vehicle, or if deadly force other than the vehicle is directed tat the officer or others."
Walton pointed out that Young was only accused of shoplifting. "It's a petty theft. There is no reasonable officer in this country who should pull their gun out for a petty theft in that scenario," he said.
Despite the out-cry, the Fraternal Order of Police is still sticking beside Young's killer. Brian Steel, Fraternal Order of Police Capital City Lodge No. 9 Executive Vice President, said based on his training, he could understand why the shooting was justified.
The case is still under investigation, and the officer who shot young is on paid-leave.