(The Root) — While there are some celebrities known for their political activism (think Kerry Washington), Shaquille O'Neal is not one of them, which is why it surprised many when the famed NBA star waded into a political campaign. In a television advertisement, O'Neal endorsed New Jersey Gov. Chris Christie for re-election. Making the endorsement noteworthy beyond the fact that "Shaq," as he's called, is not known for his activism is the fact that Christie is a Republican. 
Though black Republicans have largely been a statistical rarity since the civil rights movement, in the Obama era they have been practically invisible. While Republican President George W. Bush garnered 11 percent of the black vote in 2004, Sen. John McCain, the 2008 nominee, garnered just 4 percent to President Obama's 95 percent. Gov. Mitt Romney fared slightly better, capturing 8 percent of the black vote, while President Obama won 91 percent.
Although Newark, N.J., native O'Neal has not declared himself a Republican, his support for Christie, the governor of his home state, is further proof that some African Americans are open to supporting non-Democratic candidates under the right circumstances.  
As I noted in my 2008 book Party Crashing, polling conducted with the Suffolk University Research Center found that 35 percent of black voters ages 18 to 24 identified as independent. Many of those voters supported President Obama, but that doesn't mean they will be Democratic loyalists for life, which could spell real trouble for the Democratic Party. Furthermore, part of Romney's ability to improve performance with black voters over McCain's showing may be attributed at least in part to black men. According to the Pew Research Center's analysis of voting records, "Surprisingly, Obama's vote also declined among young black men, by 14 points, while holding steady among young black women."
Though why the president experienced a double-digit decline in support among black males has not been fully explored, one plausible theory is that black men have been hardest hit by the economic downturn. As the last hired and first fired, they have been the ones bearing the brunt of our nation's slow recovery.
G/O Media may get a commission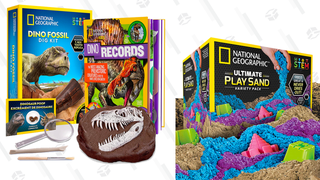 Up to 33% off
National Geographic Science and Activity Kits
Even as the rest of the country has begun to rebound, the unemployment numbers among black men have remained in the double digits throughout much of the first black president's tenure. Although no one may blame President Obama for the economic collapse, which began before he took office, there are many (myself included) who believe that his administration's sensitivity to the race-baiting of some of his conservative critics has prevented him from being more aggressive in addressing the economic needs of the black community.
It seems that this is an issue that resonates with O'Neal. In his television advertisement endorsing Christie, he says, "He's working with me to bring jobs back to this city."
Democrats should be on high alert. Christie is being touted as the front-runner for the Republican presidential nomination in 2016. He will make a formidable opponent for whoever the Democratic nominee is, even for the black vote and even if his opponent is named Clinton. As previously covered on The Root, recent polls show that Christie currently has the support of 36 percent of black voters. Who knows if the Shaq attack on TV will be able to nudge those numbers even higher. 
Keli Goff is The Root's special correspondent. Follow her on Twitter.
Like The Root on Facebook. Follow us on Twitter.
Keli Goff is The Root's special correspondent. Follow her on Twitter.