For weeks, bloggers and social media viewers speculated about the pregnancy status of Angela Simmons—fashion designer, reality-TV star and daughter of the rap legend known as Rev. Run. It's not an uncommon conversation, and happens to almost every celebrity with a newly announced engagement (Simmons announced hers last month) or who appears on a red carpet—or social media—without a flat stomach. Such is the price of fame, I suppose.
But the interest in Angela Simmons' story was slightly different. Around the time she was still a teenager, while appearing on her family's mega-popular MTV docuseries Run's House, Angela once mentioned that she was a virgin and she intended to stay that way until marriage.
And then last Friday, Simmons—who is now 28 and, as mentioned, is engaged—announced that she was pregnant. The paparazzi had caught up with her earlier that day as she was taking a walk with her protruding, pregnant belly exposed. Bloggers pounced on the images, and that night, Simmons confirmed her pregnancy by posting a picture of her stomach to Instagram with the caption, "We are overjoyed and super excited to receive a blessing this big! Starting a family was something that I could have only dreamed of."
While some readers offered their "Congratulations!" in the hours and days following her announcement, Simmons was hit with an onslaught of negative comments in reaction to the perceived "scandal." She was called a "ho," a "thot," a "liar" and a hypocrite" (to name a few). Some comments dragged her for not living up to the "wholesome" image that she had projected. I guess because virginity must be the defining trait of wholesomeness, and a 28-year-old working woman who is pregnant by her fiance doesn't fit the bill somehow?
Other readers wanted an explanation, as if they knew Simmons personally. As recently as January, she was asked on The Breakfast Club if she had a fear of being "trapped" by a man looking to get her pregnant as a come-up. Simmons said that she wasn't having sex before marriage, so it wasn't a concern.
G/O Media may get a commission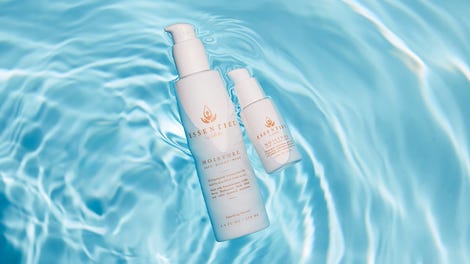 20% off
Essentiel by Adele
Simmons has spent her entire career being dogged by questions about her virginity.
In 2009 she explained to Honey magazine, when an interviewer asked about her virginity, "the whole virginity thing came out because of the breakup I had previously. And on the show, of course, it came up that I was saving myself for marriage. Is it weird that people know that now? Yeah, kind of. Do I care that much? Not really, because it's not like it's a bad thing."
Notably, Simmons never shamed anyone who didn't share her perspective. She always presented her choice as a personal decision. In the same Honey interview, she also said, "Everybody doesn't have to wait, but this is what I have to do in order to get a relationship where it's all good. I just think that when the sex factor is taken out of the relationship, you really get to know a person."
When it comes to her sex life, Simmons has been in a damned-if-you-do situation for the majority of her public life. Announcing her well-intentioned personal stance on virginity in terms of her sex life was obviously shortsighted. She couldn't have guessed when she was a teenager that people would be asking her about it for her entire career. Or that she would be crucified by fans if she changed her mind about waiting. But still, she said it, and still, she didn't owe the public an announcement or a press release or an apology when she decided to have sex as if she had done something wrong, even if you would think she had by the onslaught of shaming comments.
Sex between consensual adults is not dirty, and there's nothing shameful about it. But there's something really weird about the way we treat virgins, whether it's young girls headed to prom or grown women who give into entirely natural urges that the vast majority of adults act on. And there's something inherently sexist about the way we police the virginity of women and girls and treat our boys and men with a "boys will be boys" attitude, expecting, if not encouraging them, to "sow their oats." Who are they expected to have sex with? The girls and women we shame? Riddle me that.
The backlash to Simmons' pregnancy offers a sad commentary on how our culture treats women who have sex, but it explains a lot about why culturally we can't have healthy conversations about sex and sexuality. Maybe once we can stop placing ridiculous ideals on women to avoid sex or then shame them for having it, we can actually get to making sure that men know what they're doing so women can enjoy it more, because for all the practice men are getting, there are still a lot of women complaining. Now, that's a real scandal.
Demetria Lucas D'Oyley is a contributing editor at The Root, a life coach and the author of Don't Waste Your Pretty: The Go-to Guide for Making Smarter Decisions in Life & Love as well as A Belle in Brooklyn: The Go-to Girl for Advice on Living Your Best Single Life. She is also a blogger at SeeSomeWorld.com, where she covers pop culture and travel. Follow her on Twitter and Instagram.