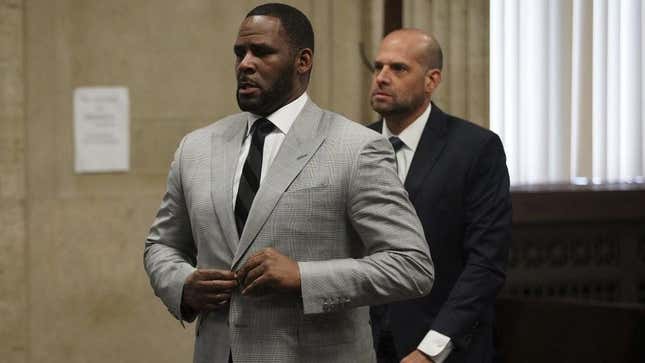 For those still following the pending criminal cases against R. Kelly, the disgraced singer had sex-abuse charges dropped against him in Chicago on Monday.
Chicago prosecutor Kim Foxx announced her decision at a press conference just one day before Kelly was set to attend a hearing relating to state charges alleging that he sexually abused four people, three of whom were minors, according to the Associated Press.
Foxx claimed that the charges were dropped due to a "lack of resources," stating at the press conference, "Our office has decided not to continue to expend our limited resources and court time with the indictments that we previously charged Mr. Kelly."
Although this is extremely disappointing news for the alleged victims involved in the case, Kelly is currently serving a 30-year prison sentence in New York over racketeering charges, and awaiting sentencing for child pornography charges he was convicted of in September 2022.
Foxx made this clear during her press conference when she said, "Mr. Kelly is potentially looking at the possibility of never walking out of prison again for the crimes that he's committed. While today's cases are no longer being pursued, we believe justice has been served."
That sounds nice, but is that enough to satisfy the victims Foxx once pleaded come forward in this case?
Lanita Carter, who claims she was sexually assaulted by Kelly in 2003, said according to the Associated Press, "I have spent nearly 20 years hoping that my abuser would be brought to justice for what he did to me. With today's announcement, all hope of justice for my case is gone."
She continued, "Justice has been denied for me."
Despite the fact that these charges were dropped, Kelly still has pending cases he has to address. According to the Associated Press, Kelly is facing solicitation charges in Hennepin County, Minnesota. That case has been on hold for the last few years as they have waited for his federal charges in New York and Chicago to be decided.