The NFL has suspended Dallas Cowboys star running back Ezekiel Elliott for six games after Elliott's ex-girlfriend Tiffany Thompson claimed that she was abused by Elliott. Here's everything we know:
On July 22, 2016, Deadspin found Instagram photos of a woman believed to be Thompson that showed bruising on her arms, knee and neck. The caption accompanying the photos indicated that the woman had been getting abused for months and included that "it finally got out of control to where I was picked up and thrown across the room by my arms. Thrown into walls. Being choked to where I have to gasp for breath. Bruised everywhere, mentally and physically abused."
TMZ Sports obtained a police report detailing the alleged incident between the woman and Elliott. Here's an excerpt from that report:
The female accuser filed a report with the Columbus PD in Ohio Friday morning ... saying she was assaulted by Elliott—who she claims is her former live-in boyfriend—while sitting in the driver's seat of her parked vehicle.

The officers who responded to the scene say the woman claims she had pain in her wrist and a red mark—but declined medical treatment.
Cops contacted Elliott—who denied striking the woman. He also said he never lived with her.

In the report, cops list the accuser as a 20-year-old woman—5'5", 120 lbs. Elliott is listed at 6'0", 225 lbs.

According to the report, cops also spoke with 4 witnesses—but they all told cops they didn't see an assault. One of the witnesses was in the car at the time of the alleged incident.
The NFL launched its own investigation and concluded that Elliott was at fault. The league announced last week that Elliott would be suspended for the first six games of the upcoming season.
However, Yahoo! Sports has obtained the 160-page report prepared by NFL investigators, which reportedly includes a series of text messages between Thompson and a friend suggesting that they could blackmail Elliott with a sex tape made during Thompson and Elliott's relationship.
G/O Media may get a commission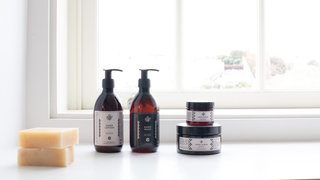 Exfoliate and Hydrate
The Handmade Soap Company
According to the report, during the conversation, Thompson's friend suggested in a text, "We could black mail [sic] him w[ith] that," to which Thompson responded, "I want to bro."
The NFL's report also indicated that Thompson admitted registering an email address titled "ezekielelliott sex vids" in August 2016, Yahoo! Sports reports.

The texts don't disprove the domestic violence allegations, but they do underscore raised red flags around Thompson's credibility as the only person alleging that the abuse took place.
The NFL has already concluded that the photographic evidence, which showed bruises during a reported week when the couple shared a room, was enough to warrant Elliott's suspension. But Elliott's agent has maintained his client's innocence.
"'The league's forensic experts also recovered evidence from Ms. Thompson's phone that she had registered an email address titled, 'ezekielelliott sex vids' during the month of August 2016,'" the NFL investigative report reads, according to Yahoo! Sports. The report continues:

In addition, a text message with her friend [name withheld by Yahoo!] was recovered that showed them talking about their need to make more money and Ms. Thompson raised the idea of selling the sex tapes she had of herself and Mr. Elliott. Her friend [name withheld] said they should blackmail Mr. Elliott with them; they'd be 'millionaires.' Ms. Thompson replied that she'd like to but was scared. When Ms. Thompson was asked about this by the league's investigators, she stated that she did have sex tapes of her and Mr. Elliott on her phone and she did open the email account but she denied doing so to blackmail Mr. Elliott.
According to the report, here's an excerpt of the exact exchange between Thompson and her friend, which took place Sept. 21, 2016:

[Thompson]: What if I sold mine and Ezekiel's sex videos
[Friend]: We'd all be millionaires
[Friend]: We could black mail him w that
[Thompson]: I want to bro
[Friend]: Let's do it
[Thompson]: Scared
[Friend]: Shit
[Friend]: Id be like look give me 10k or I'll just sell our sex videos for the same amount flat
[Friend]: Me and my friends tryna go on vacation and get boob jobs
(The report notes a pair of blank texts.)
[Thompson]: 10k Bitch I want 20k
[Thompson]: Go big or go home
[Friend]: That's fine too
[Friend]: Like what
"While none of this appears to be evidence that can conclusively clear Elliott of domestic violence, the NFLPA and his lawyers believe it speaks to the credibility aspect that may ultimately determine the success of his appeal," according to Yahoo! Sports.

Elliott's appeal hearing is scheduled for Aug. 29.
Read more at Yahoo! Sports.