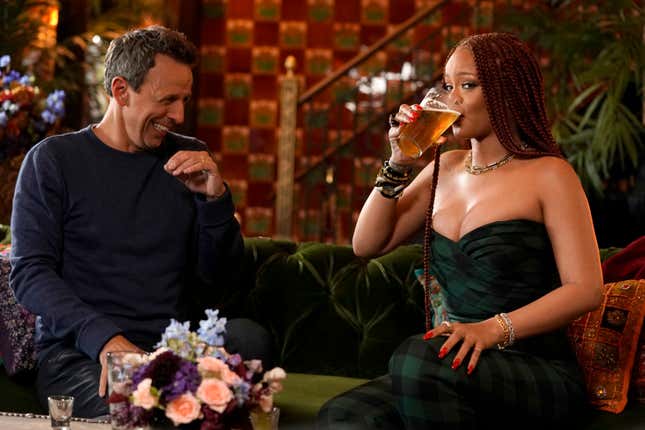 Grammy-winning superstar Rihanna is a lot of thing: singer; actress; billionaire Savage x Fenty mogul; and most importantly, a mother. Now, you can add champion drinker to the list.
Killing Eve and Cruella Star, Kirby Howell-Baptiste, Plays That's So Random
During an appearance on The Late Late Show with James Corden, fellow late night host Seth Meyers revealed that the "We Found Love" artist drank him under the table when they did the "Day Drinking" segment on his show in 2019. In case you've never seen it, it features Seth and a celebrity guest drinking their way through New York City. As they get more inebriated, the bit gets increasingly ridiculous. And they're not just drinking beer and cocktails. There are usually some crazy, off the wall drinks involved too.

Corden asked Meyers what's the most drunk he's ever been during the segment, and Seth immediately responded with Rihanna. If you've seen this particular edition of "Day Drinking," it's no surprise that this is the answer. Meyers is extremely drunk in this video.
"We have to edit out some of the drinking just for time, so whatever you see, it's like 40 percent more than that," Meyers said. "Rihanna was the drunkest I've ever been, I think, and it was worth every second of it."
The Late Night with Seth Meyers host went on to explain that their age difference played a major factor in how they handled their alcohol. Rih was seemingly fine after the hours they spent consuming crazy drinks, while Meyers was decidedly not fine.
"Well, first of all, I should note that…I hate to break the news here: she's younger than me. We drank the same amount and then she definitely went out," he said. "Like, she was fine. She walked out, she looked as good as she did when we started."
Apparently, once he made it home, Seth's wife was completely unimpressed with his condition.
"I went home, immediately fell asleep in the hallway of my apartment. Got in the door, fell asleep," he said. "My wife—passive-aggressively, James—put a water next to my head and went to bed."
During the segment, Seth makes wild drinks based on popular Rihanna songs. Then he tests her on her most famous fashion looks, with the loser forced to drink. She uses Fenty Beauty to give him makeup tips, and of course, offers him advice on his sex life. It's one of the funniest versions of the comedy bit, and now that we know it's the drunkest Seth has ever been, it's even more hilarious.