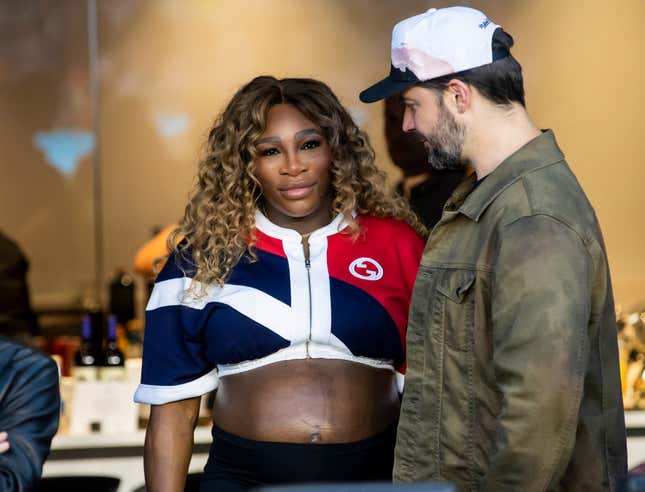 Tennis star Serena Williams gave us all life when she announced the birth of her second child, daughter Adira on August 22. And while the world waits for the first close-up shots of the newest member of the family, Williams gave fans the next best thing – a glimpse at her room.
Sports Journalist Jemele Hill Plays That's So Random
In an August 27 YouTube clip, the 41-year-old champion lets us into her home as she shares before and after images of Baby Adira's nursery. The serene room, which was once a playroom for Williams' oldest daughter Olympia, was tastefully redesigned with adorable stuffed animals, monogrammed pillows and a walk-in closet that could only be created in a fashionista's dreams.
And while I always love getting a sneak peek inside the cribs of the rich and famous, it's hard not to notice the way a tiny leading lady completely steals the show.

It's very clear throughout the video that Olympia has some pretty strong feelings about having to surrender her playroom to her new baby sis. And if you've ever had to give up your space and privacy to make room for a younger sibling, you already know what that feels like. As the oldest of three, I can certainly feel her pain.
When Williams tries to show viewers inside Olympia's bedroom, the five-year-old stops mom in her tracks at the door. "You can't go here," she says. She even has a mini Real Housewife moment when she walks into the nursery and tries to grab a toy – giving no fs whatsoever that her mom was filming at the time. Determined to make a statement, Olympia takes a roll of wallpaper from her mom's hand and storms off with a sassy hair flip for effect. I honestly didn't know it was possible to be that defiant and adorable at the same time.
It may take a little time for Olympia to get used to having to share the spotlight, but with a personality like that, I'm sure she'll have no problem carving out her own lane.