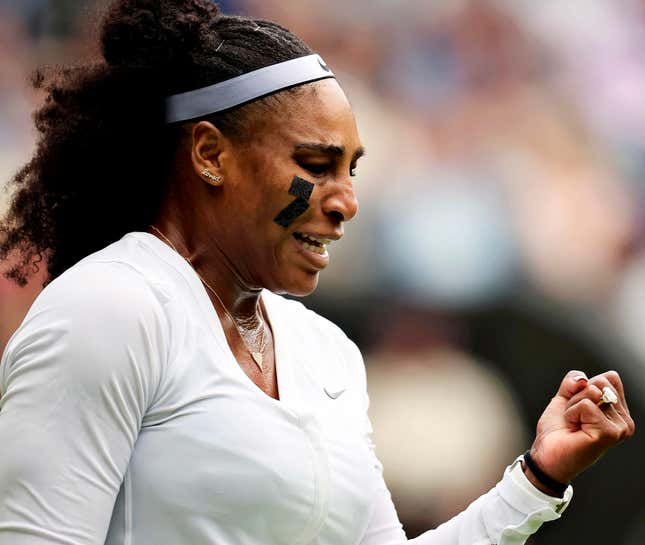 I've reached a fortunate age as a sports fan where I can remember the careers of the greats of multiple generations. I saw both LeBron and MJ in their primes (and unlike a lot of cats too young to remember the latter play, I have no use for a 'who was better' hot-take fest). I saw Barry Bonds play as a Pirate and a Giant, Ken Griffey Jr., A-Rod and Big Papi on the diamond. I've watched Tom Brady, Peyton Manning, Lamar Jackson and Patrick Mahomes. I've seen all of them play live, in-arena.

Big George Foreman Star, Khris Davis, Talks Boxing & Playing the Champ, Atlanta, & More
None of them is as good an athlete as Serena Williams. Hear me out.

This isn't an argument against the greatness of any of those athletes, their immense physical gifts or their accomplishments. That LeBron and Brady are still playing at a high level in their late 30s and mid-40s, respectively, is astounding, even accounting for advances in nutrition, training and sports medicine that now keep elite players competitive at later ages. But both those players, along with almost every other athlete on most fans' GOAT lists, dominate team sports, where their success can't be separated from their supporting casts. LeBron needed D-Wade and Chris Bosh to get over the hump in the NBA Finals and although Brady won a ring without his, ahem, partner in crime Bill Belichick, the stain of Spygate will follow him into the Hall of Fame.

Williams' status as the greatest athlete of her time was achieved by ruling an individual sport, relying only on her own ability to impose her will on whoever was on the other side of the net. For the better part of two decades, she hasn't just beat her opponents, she overwhelmed them. No linemen to create a clean pocket. No assists. No run support to carry a nasty performance from the mound through the late innings. Just Serena, her racket and her excellence on clay or grass.

Along the way she consumed most of the oxygen allotted to her sport in the broader culture. She became ubiquitous, joining LeBron and Kobe and her sister Venus among the short list of American athletes whose first name is enough to open any door in the world. And those doors aren't merely unlocked; they've been flung wide open. Williams' Vogue essay announcing her retirement notes that a major part of her "evolution" away from tennis is to focus on Serena Ventures, her own venture capital firm, which she said this year alone has raised $111 million in capital to deploy. It's not uncommon for elite athletes to transitioned from endorsers to investors while still in the game. But few, if any, have rolled out VC operations at that scale; James, with his partnerships with Warren Buffett and the Fenway Sports Group, might be the only contemporary who comes close.

Williams' 23 Grand Slam titles outstrip any other athlete in the history of her sport, male or female. But that's only part of the story of her competitive nature. She's also made it to 10 other Grand Slam finals, for a total of 33 appearances on the biggest stage in her sport and an astounding 69.7 percent win rate in those matches. Tiger Woods, whose early career ascent tracked Williams' in the late 90s and early 2000s, continues to play but has been on the downhill side of his dominance for at least a decade. These days, he's still a draw for spectators but almost never a threat to win. Serena was, and is, always still in it.
Maybe the only other athlete to rival Williams' dominance is Floyd Mayweather, the boxer who ended his career undefeated. Like Williams, Mayweather ran over the competition in his sport, often making his opponents look silly with a combination of speed and counterpunching that often made it look like he was playing chess to his rivals' checkers.
Mayweather's sport, like tennis, is also a competition without geographic borders. But some of Mayweather's biggest fights—against Shane Mosely and most famously, Manny Pacquaio, to name two, came later in his career against fighters past their primes. His bout with Canelo Alvarez was a match against an outmatched young buck who hadn't yet grown in to the pound-for-pound dominance Alvarez enjoys now. Williams bested players far her senior in the early stages of her career, and stomped out younger players as she aged.
And let's not forget that she won her 23rd Grand Slam in 2017 while she was eight weeks pregnant. Your favorite athlete could never.
Williams will walk away from tennis as its most decorated player, but her real legacy will be as the most complete athlete of her generation. As great as they are, most of her contemporaries aren't even close to the place in history she's secured alongside names like Ali, Abdul-Jabbar, Clemente and Robinson. If you haven't paid attention all this time, you might want to do yourself the favor of not missing her last match.