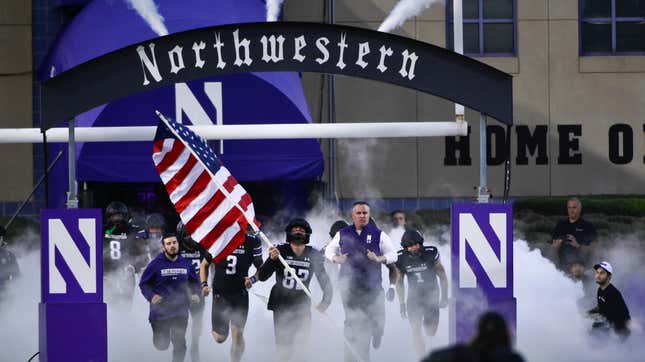 Northwestern University's hazing scandal continues as new allegations have come to light. This time, two of the school's former football players have alleged that Black athletes were forced to compete in watermelon-eating contests as part of a sadistic hazing culture.

Small Town Horror: The Story of a SWAT Team That Set A House Ablaze
"This is a clear promotion of the indisputably racist watermelon stereotype and anti-black racist trope," both lawsuits state. "This behavior is especially despicable coming from a coach who recruited kids and teenagers out of their homes and living rooms, promising parents that their children, many of whom would be leaving home for the first time, were going to be taken care of while at Northwestern."
The anonymous players who filed the suit were on Northwestern's football team during the 2004/2005 seasons and also claim that former head coach Pat Fitzgerald—who was fired from his position last month—"knew and encouraged this behavior to happen to these very young and impressionable men."
Though officials at the school have stated there is a clear anti-hazing policy, several of the lawsuits filed—which claim players were physically and sexually abused—say that coaches and trainers either saw acts of hazing or ignored the players when they brought the hazing incidents to their attention.
Several of the lawsuits claim athletes were forced to engage in acts called "running," where upperclassmen would hold down freshmen players in the locker room and would "dry-hump" them. In addition, freshmen were allegedly forced to participate in a "car wash," in which naked upperclassmen would force underclassmen to rub against them as they went to the showers.
"Underclassmen, specifically freshmen on the football team, were forced to engage in horrific, despicable, and sexually explicit forms of hazing," the lawsuits explain. Both of these lawsuits are the first to name former Northwestern athletic director Mark Murphy as a defendant.
Murphy is being accused of negligence for failing to stop the hazing. Murphy currently works for the Green Bay Packers as president and CEO.