Otis Tyrone McKane, 31, the suspect in the fatal shooting Sunday afternoon of Detective Benjamin Marconi, 50, apologized to Marconi's family after his arrest, CNN reports.
When asked by police on Monday why he was upset, McKane said, "Society not allowing me to see my son. I lashed out at somebody who didn't deserve it. I've been through several custody battles, and I was upset at the situation I was in."
Marconi was pulling over a driver and went back to his car to write a ticket when McKane allegedly pulled up in a car behind him. He then reportedly shot Marconi in the head, and then a second time, before returning to his car and driving away.
According to CNN, McKane was arrested by a SWAT team on Interstate 10 on Monday while riding with a woman and a 2-year-old child.
"Based on the actions of this individual prior to the shooting, we have a fairly good video documentation of what he was doing," said San Antonio Police Chief William McManus. "I am still convinced that he was targeting blue—targeting a San Antonio Police Department officer, no matter who it was. It was any officer he came across."
G/O Media may get a commission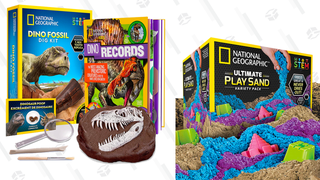 Up to 33% off
National Geographic Science and Activity Kits
When asked if McKane had anything to say to Marconi's family, he responded with, "I'm sorry."
Read more at CNN.