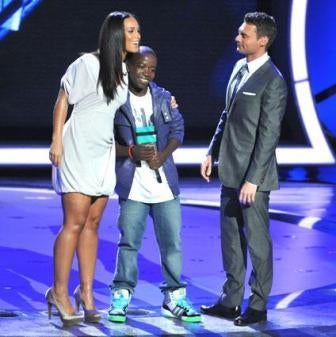 Surprisingly, last night's American Idol episode consisted of more than just Simon Cowell quips and cheesy segues from Ryan Seacrest. Adam Lambert, Danny Gokey and Kris Allen, the three remaining contestants vying for the top spot, stood on-deck as 15-year-old guest performer, Noah Mushimiyimana from Rwanda blew them out of the water. 
His appearance was a part of a fundraising effort for Keep a Child Alive (KCA), an organization that provides treatment and care for people living with HIV/AIDS in South Africa, Kenya, Uganda, Rwanda and India. KCA co-founder Alicia Keys introduced Noah, asking Idol viewers to join the Text "Alive" Challenge and contribute a $5 donation for KCA.  
Noah, a KCA beneficiary who taught himself to rap at the age of 8, took the stage like a seasoned vet. Rapping to "World's Greatest" by R. Kelly, Noah pumped up the crowd with a wind of his hips and a natural stage presence. It's hard to believe he barely spoke English before learning the song.  
And last night's performance was just the beginning for this rap rookie. His version of "World's Greatest" is now on iTunes, and he's in the process of recording an album with producer Swizz Beats. Plus, rumor has it that Noah's slated to appear on the Ellen show today. If so, his dance moves are definitely ready to challenge Ellen DeGeneres. Take a look at last night's performance: 
Noah as the "World's Greatest" 
Good Lord, was that Ryan Seacrest attempting to wind? Let's hope next week's episode of Idol is just as good.
Saaret Yoseph is a writer and Assistant Editor at TheRoot.com. She manages and blogs for \"Their Eyes Were Watching …\"