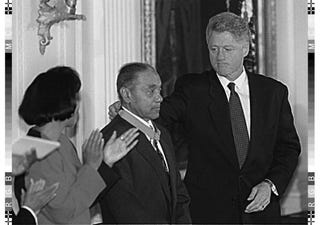 by T. Rees Shapiro
First Lt. Vernon J. Baker, 90, an Army infantryman who, more than 50 years after the end of World War II, became the only surviving African American to receive the Medal of Honor for his heroic actions during the war, died July 13 at his home near St. Maries, Idaho. He had brain cancer.
In 1993, the Army commissioned a study led by researchers from Shaw University in Raleigh, N.C., to determine whether there had been a racial disparity in how the Medal of Honor was awarded during World War II.
Of the more than 400 Medals of Honor awarded, not one of the 1.2 million African Americans who served in the war was a recipient.
After researchers found the discrepancy, the Army recommended seven African American soldiers for the country's most prestigious military honor, including Lt. Baker.