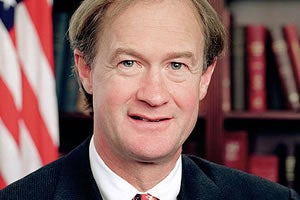 The Associated Press is reporting that Rhode Island has passed a civil unions bill, which Gov. Lincoln Chafee's office says he intends to sign into law. 
State senators voted 21-16 to endorse the bill, about two hours after it was voted out of committee. The legislation, which has already passed the state House, allows gay couples to enter into civil unions that offer the same rights and benefits given to married couples under Rhode Island law.
It is now headed to Chafee's desk for his signature. Ahead of the vote, the independent governor called the legislation an "incremental step" toward allowing gay marriage, which he supports.
Earlier this month, New York became the sixth state to allow gay marriage, joining Iowa, Massachusetts, Vermont, New Hampshire and Connecticut, as well as the District of Columbia.
Add Rhode Island to the list where civil unions will be allowed and civil rights will be enforced. We love it. Besides, as one comedian says, gay couples should have the right to be just as miserable as the rest of us.
Read more at the Associated Press. 
In other news: The Root Recommends: Jill Scott's 'The Light of the Sun.'