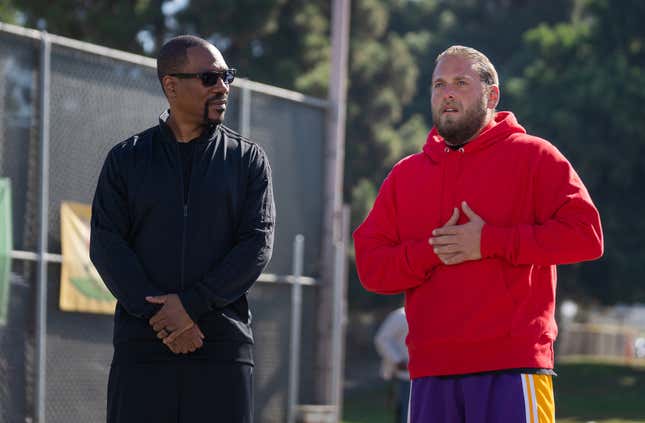 Hollywood loves the awkward meet the parents trope. Whether it's played for drama in Guess Who's Coming to Dinner, or in a comedy like Meet the Parents, it's a universal theme everyone can understand. In the new Netflix comedy You People, writer/director Kenya Barris (black-ish) tries to thread the needle between the ridiculous absurdity of a culture clash and the genuine issues that come with combining two massively different worlds. While the story is somewhat predictable, and the dialogue purposely cringey, the talented cast is able to make it mostly work. Though, there are moments when even the comedic brilliance of Eddie Murphy and Julia Louis-Dreyfus can't overcome the film's overwhelming awkwardness.

Marlon Wayans Sings The White Chicks Anthem, Talks The Daily Show on That's So Random
The story follows Jonah Hill's hapless yet likable Ezra as he falls in love with self-assured, adorable Amira, played by the stunning Lauren London. Seriously, she's gorgeous every single moment she's on-screen. They're definitely presented as a "How in the hell did he get her couple?" which plays right into Barris' sitcom roots. In fact, the whole film sort of feels like several episodes of a sitcom sewn together to create a movie. There's the couple's meet cute, then meeting the parents, the weird family dinner, then awkward bonding, wedding misunderstandings, and of course, the happily ever after where everyone dances together. Each element is very much a separate episode in a season-long arc.
As the couple falls in love and works past their differences, the audience tensely waits for the storm that we know is about to hit them. Louis-Dreyfus and David Duchovny play Ezra's trying-way-too-hard Jewish parents, Shelly and Arnold, while Murphy and Nia Long are Amira's openly disapproving Muslim parents, Akbar and Fatima. Both "meet the parents" scenes are painfully awkward, going out of their way to highlight how opposite Ezra and Amira's lives are. When the families come together for dinner, the comedy and supposedly smart conversation feels forced. Frankly, all the scenes featuring family interactions are just too much. The only thing that keeps the far more interesting opposites attract story from being overshadowed by the cringyness is the cute, easy chemistry between Hill and London.
You People is a film that feels like it was going for pointed, insightful comedy, but drifted way too far into slapstick and low-hanging punchlines. The jokes are only made funny by the expert delivery of comedy vets Murphy, Louis-Dreyfus and Hill. In less capable hands, they would not have landed as well. You may have noticed I didn't mention Duchovny or Long. That's because both–especially Long–are criminally underutilized.
At its core You People is a rom-com, so it has a happy ending that allows the audience to leave with good vibes. But I can't shake the feeling that the whole movie would've been better served if it were helmed by someone with a more subtle hand.