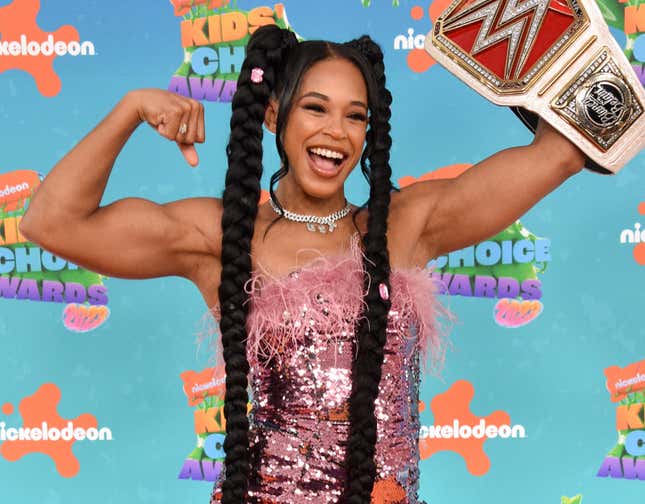 In the world of professional wrestling, WWE's WrestleMania is the biggest event of the year. It's known as "The Grandest Stage of Them All" and "The Showcase of the Immortals." Showing out at Mania can make you a legend, and with back-to-back, five-star main event matches, Raw Women's Champion Bianca Belair has very quickly become the new Mrs. WrestleMania.
Small Town Horror Story: The Vietnam Veteran Who Refused To Leave A Man Behind
Since winning the title from Becky Lynch at 2022's WrestleMania 38, "The EST of WWE" has lived up to her name, cutting through nearly every woman on Monday Night Raw. As she prepares to defend her championship against Asuka at WrestleMania 39, Belair spoke to The Root about bringing Black culture into wrestling and creating those memorable moments.

For a big show like Mania, wrestling fans tend to have wildly different opinions on the best matches and moments. However, at WrestleMania 38, almost everyone agreed that Bianca and Becky had the best match of the weekend. The year before that at WrestleMania 37, Belair made history by main-eventing with Sasha Banks a.k.a. Mercedes Moné. They were the first two Black women to main event the biggest night in wrestling. And of course, they tore the house down with an absolute banger. You'd think all this praise and celebration would be old hat for Belair, but she says the event actually gets more nerve-wracking every year.
"I would have thought that it would get easier with each WrestleMania because you would think, 'Oh, you've done it before. It's easy.' I remember last year at WrestleMania 38. I walked into it thinking, 'Oh, I main evented WrestleMania last year. That's the biggest level that you could start at so I won't be nervous this year.' Absolutely not. I was more nervous at WrestleMania 38 than I was in WrestleMania 37," Belair told The Root. "I can't imagine how I'm gonna feel at WrestleMania 39, especially with all the stakes that are on the line. I could possibly go threepeat and really be Mrs. WrestleMania. Also, if I win WrestleMania, I will be about a week shy of breaking the record for being the longest-reigning Raw Women's Champion. So I feel like I'm gonna be even more nervous being at SoFi Stadium, being in LA, being in Hollywood under the bright lights facing someone like Asuka, who I've always considered as one of the best women's wrestlers in the world. Yeah, I'm probably going to be shaking before I go out."
As the Raw Women's Champion, Belair has become WWE's longest-reigning Black singles champion in history. From her gear, to her music, to her famous ponytail, Bianca represents Black Excellence in every aspect of her performance. She calls herself "The EST" because she's a hybrid athlete who's amazing at everything. She knows who she is and she's letting the world see that Black women are spectacular athletes, fashion icons, role models, and champions. Nothing about Bianca feels forced and that's why the crowd is always excited to see her. We know we're about to get something special.
"I'm really big on just being yourself. I feel like I want to bring my full self to the table. I am a Black woman. I can't hide that even if I wanted to and I definitely don't want to. I want to show everyone out there that you are beautiful the way that you're made and you don't have to change yourself. You can show up exactly as you are and that's simply enough," she said. "I know what my role models did for me when I was a little girl…I saw myself in them and they showed me the possibilities. I'm where I am now because of them. Knowing that I can do that for someone else, and I can represent for my culture and for my people. They can see themselves in me, letting them know how much WWE is for us. We have a very diverse representation of Black people in WWE and I think it's important to showcase that and give people something where they can see themselves, they can enjoy it, they can relate to it. Representation is not a request, it's a requirement."
At WrestleMania 38, Belair had the marching band from HBCU Texas Southern University play her to the ring. It was a huge moment for Black fans. It's also left many wondering what the champ has up her sleeve this year. She wasn't ready to give anything away, but she's trying to work out something special since the event is going Hollywood.
"Listen, the pressure is on. Everybody's like, 'What are you gonna do?' It's even harder because I brought the HBCU band out last year. Culturally that was so significant…so it's like how can I get bigger?," Belair said. "I don't want to spoil it because I don't even know if we're going to be able to make it happen, but hopefully, whatever it is is gonna be big."
You can check out what Bianca Belair has planned on WrestleMania 39, airing live Saturday, April 1 and Sunday, April 2 at 8 p.m. ET/5 p.m. PT on Peacock.