On Feb. 2 around 7 p.m., 14-year-old Jamod Watkins says, he was on his way home from the grocery store when several Newark, N.J., police officers in an unmarked SUV hopped out on him. The frightened teen ran but says he was surrounded by two more unmarked vehicles. Jamod says he raised his hands above his head after the men—who, he says, did not show badges—told the teen they were police.
Beyoncé's Feminist Anthem "Run the World (Girls)" A Decade Later
According to court papers viewed by the New York Daily News, the officers allegedly slammed the teen to the ground, pushed his face into the sidewalk and pulled his arm so far behind his back that he heard his shoulder pop.
"What gang are you with?" the cops asked the teen as they reportedly searched him for weapons and drugs. "What [f—king] gang are you with?"
According to the Daily News, the incident lasted around seven minutes before the cops left the injured teen on the street in pain.  
G/O Media may get a commission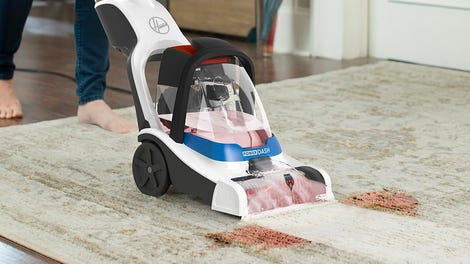 26% Off
Hoover PowerDash Pet Compact Carpet Cleaner
"I was petrified," Jamod told the Daily News. "I had no idea they were cops. They were not wearing uniforms, they had no badges and they were driving black SUVs. I thought they were going to mug me, so I ran. The second they said they were police, I stopped and froze. Why did they have to hurt me like that?"
Rosemarie Arnold, Jamod's lawyer, told the Daily News that the teen had to walk home "three blocks by himself with a shoulder that was dislocated and broken." Shaquanna Watkins, Jamod's mother, said that she took her son to the hospital and reported the incident to the police.
"My son didn't deserve this," Watkins told the Daily News. "He is so upset. He is afraid to go out. None of us can sleep; we are all so traumatized by this. Why are those cops still walking the street and getting paid by the town? They should be in jail. Just because you are a cop doesn't give you carte blanche to beat up on young boys. They said freeze and Jamod froze. Why did they have to break his arm in half? He is just a boy."
The Daily News notes that a Newark detective, Wilberto Ruiz, was suspended for waiting more than 24 hours to report the incident. Acting Public Safety Director Anthony Ambrose told the Daily News that the city's gang-enforcement members, who were involved in the incident, were being reassigned and investigated.
The Essex County Prosecutor's Office is also investigating, but Arnold said that she believes she knows what happened.  
"The only crime he commits is he's walking with black skin," Arnold said. "This is pure, unadulterated abuse of power."
Read more at the New York Daily News.