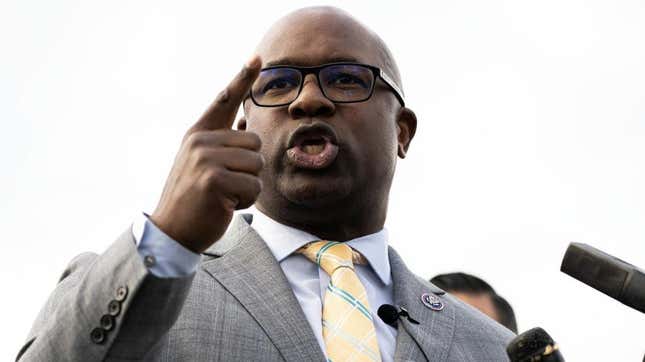 Some things need to be discussed with a calm tone and other things need to be yelled out so everyone could hear. Rep. Jamaal Bowman did the later, ensuring that everyone in Congress knew how he feels about gun control following the Nashville school shooting which left three nine-year-old students and three staff members dead.
Small Town Horror: The Story of a SWAT Team That Set A House Ablaze
On Wednesday, Bowman, who is a Democrat representing New York's 16th Congressional District, was seen shouting in the hallway outside of the House Chamber, speaking to anyone that would listen about the importance of gun control and how the people who are against it are cowards.
Bowman shouted in front of reporters, "They're freaking cowards! They're gutless!"
But, as Bowman was screaming, Rep. Thomas Massie, a Republican representing Kentucky's 4th Congressional District, walked by and asked, "What are you talking about?!"
In response, Bowman said, "I'm talking about gun violence!"
Then the two politicians started to have a shouting match for the ages.
A video of the argument can be seen below:
Massie argued that "there's never been a school shooting in a school that allows teachers to carry."
Bowman was appalled by Massie's statement, giving him a stank face and saying in response, "Carry guns?! More guns lead to more death! Look at the data!"

Think he's just yelling out nonsense? A scholarly review of the correlation between the prevalence of guns and homicide by Harvard researchers showed that a greater number of guns directly correlates to higher rates of homicide.

So, Bowman has a good idea of what he's talking about.

Massie eventually told Bowman to calm down. But, in response, Bowman said, "Calm down? Children are dying!"

I second his emotions. This issue is not something that people need to be "calm" about. Parents are sending their children to school every day and for some of those parents, they'll never see them again.

Unfortunately, this argument between congressmen represents why any legislation that would ban assault weapons is probably not going to pass. Republicans and Democrats in the house are too far apart on gun control and neither side is willing to compromise to save innocent lives.