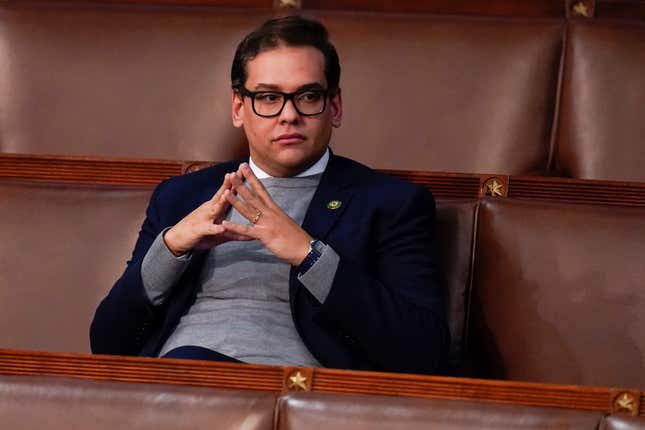 Updated 1/16/2023 at 8:00 a.m. ET  
New York Republicans finally broke their silence on Representative George Santos (R-NY), last week. Four recently elected congressmen urged Santos to resign, along with dozens of other elected Republican officials.
But before you get too much faith in government, I'm gonna need to slow your roll for a second.
House Speaker Kevin McCarthy announced that not only will he be keeping Santos around, he plans on giving him a seat on a congressional committee.
"The voters elected him to serve," Rep. McCarthy said, according to the New York Times, adding that he "has to answer to the voters and the voters can make another decision in two years."
The fact that Santos was a key vote for McCarthy seems like kind of an obvious reason they might want to keep Santos happy.
But just because Republicans leadership has refused to take any meaningful action on this Veep character come to life, doesn't mean the rest of us should just ignore him.

Let's tally up the unending stream of lies he's told, in no particular order. (Special shoutout to the New York Times for taking the time to look into and debunk his resume).
Santos, 34, lied about going to college (honestly, the least egregious of all of the lies). He said he went to Baruch College in New York. The only problem was that they had no record of his attendance.
"I didn't graduate from any institution of higher learning. I'm embarrassed and sorry for having embellished my resume," Santos told the New York Post (after winning the election).
Then there were the lies about his employment. He said he worked at Goldman Sachs and Citi Group (spoiler: he did not). He later admitted in the same interview to having "embellished" his resume.
But it doesn't end there. On his campaign website, he mentions that his mother was Jewish and that his grandparents escaped the Nazis during World War II.
I'm sure you all know what's coming next. Santos is not Jewish, and it doesn't seem like his mother was either. His explanation is honestly more convoluted than you could have guessed.
He says his Grandmother told him stories about being Jewish and converting to Catholicism.
"I am Catholic," Santos told the New York Post. "Because I learned my maternal family had a Jewish background, I said I was 'Jew-ish.'"
I wish I could tell you it ends there. But, according to the New York Post, he also lied about owning 13 different properties (he lives with his sister).
These boldfaced lies would all seem like enough to warrant some kind of action on the part of Republicans (this is by no means an exhaustive list), but we haven't even gotten into the alleged financial misconduct.
Federal Prosecutors in the Eastern District of New York are looking into Santos' financial disclosures, according to CNN News, in an attempt to figure out where his mysterious wealth comes from.
For context, in 2020, Santos reported making $55,000 a year, but between 2021 and 2022, he claimed to have made millions of dollars from his consulting group, according to his financial disclosures. He also claimed to have pulled $700,000 from his firm into his campaign. Where this money actually came from remains a mystery.
A non-partisan watchdog group, Campaign Legal Center, filed a federal complaint against Santos, alleging that he intentionally hid where his campaign funds were coming from last year.
"As part of his latest campaign of duplicity, Santos also appears to have violated federal campaign finance laws by knowingly and willfully concealing the true sources of his campaign's funding, misrepresenting how his campaign spent its money, and illegally paying for personal expenses with campaign funds," the complaint reads.
Guess what? There's actually more. The Government of Brazil announced last week that they plan to revive fraud charges against him. According to the New York Times, "the matter, which stemmed from an incident in 2008 regarding a stolen checkbook, had been suspended for the better part of a decade because the police were unable to locate him."
At this point, we've gone from lying about your resume to accusations of serious financial crimes, and Republicans are still nowhere to be found.
It's also possible that they figure no one really cares about the Santos debacle because, if we're being honest on the surface, it's kind of funny.
Santos fabricated an entire back story like he was fibbing about his level of Excel proficiency, and he still made it to Congress. Pair that with the fact that he randomly popped up on the background of every C-SPAN shot from last week looking dazed and confused, and you've got yourself comedy gold.
Unfortunately, this isn't a cable tv drama, and Democrats, who requested an ethics probe into Santos, certainly don't seem to be laughing. Sadly, for now, it seems we're all stuck with him.