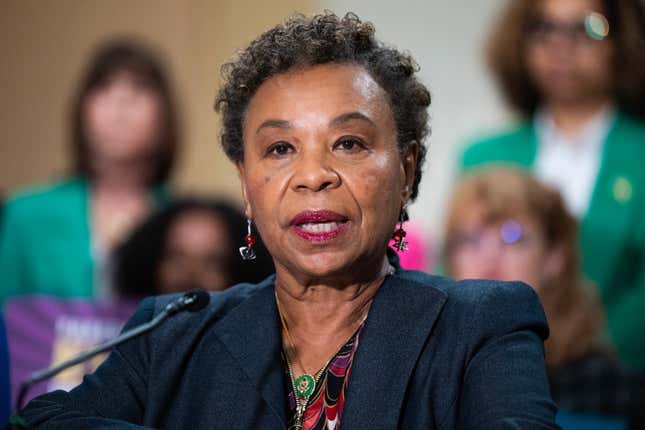 Congresswoman Barbara Lee (D-CA) is calling out California Governor Gavin Newsom after he made some questionable comments on Meet The Press.
Courtney B. Vance in Heist 88 Is Our Black TV Pick of the Week
On Sunday, Governor Newsom said that he would appoint a Black woman as a caretaker for Senator Diane Feinstein's seat if she were to resign. Newsom previously swore to appoint a Black woman to the seat but rejected calls to appoint Rep. Lee, who is currently running in the hotly-contested primary.
Host Chuck Todd asked Newsom if he would keep his pledge to appoint a Black woman, asking, "it would be essentially a caretaker — an African American woman?" Newsom said that while he hopes "never to have to make this decision, but I abide by what I've said very publicly on a consistent basis. Yes."
Without Vice President Kamala Harris, there are currently no Black women in the U.S. Senate, which is what prompted Newsom's promise in the first place. Although he said that his reasoning for not appointing Rep. Lee was to avoid interfering in the primary by giving any candidate an incumbency bump, his comments still didn't sit right with the political veteran.
"I am troubled by the Governor's remarks," said Lee in a statement obtained by The Root. "The idea that a Black woman should be appointed only as a caretaker to simply check a box is insulting to countless Black women across this country who have carried the Democratic Party to victory election after election."
Lee went on to reiterate the need for Black women in the Senate. "There are currently no Black women serving in the Senate. Since 1789, there have only been two Black woman Senators, who have served a total of 10 years," she wrote. "The perspective of Black women in the U.S. Senate is sorely needed — and needed for more than a few months.
It's possible that all of this could be a non-issue. Despite ongoing health concerns, Sen. Feinstein has so far rejected calls to resign. And political leaders in California like Newsom and Representative Nancy Pelosi have yet to call for her to step down.
But, for Lee, the idea that a Black woman could be selected just to check a box is insulting. "If the Governor intends to keep his promise and appoint a Black woman to the Senate, the people of California deserve the best possible person for that job. Not a token appointment," says Lee. "Black women deserve more than a participation trophy. We need a seat at the table."