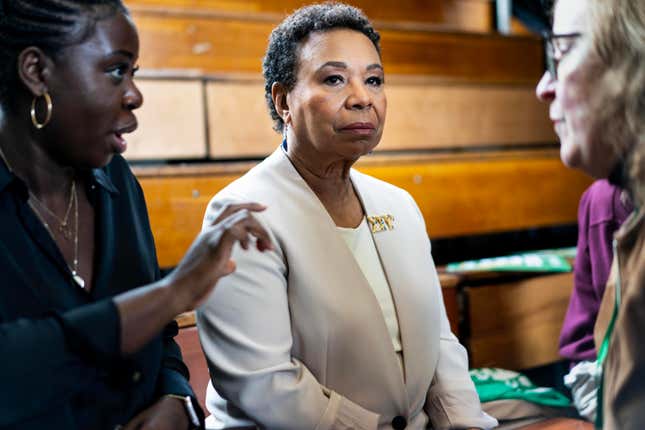 Black women have been woefully underrepresented within the Senate. Seriously, there have only been two Black women Senators in our nation's history. And there are currently no Black women serving in arguably the most important legislative body in the country. But all of that could change next year.
The Biden And Trump Classified Documents Scandal Explained
Black women are serious contenders in four Senate races in Maryland, Delaware, Michigan, and California. Meaning for the first time ever, we could see multiple Black women serving in the Senate at the same time.
The opportunity to send more Black women to the Senate than ever before can largely be attributed to three major retirements happening next year. In Delaware, Senator Tom Carper announced his retirement. On his way out, Carper endorsed Congresswoman Lisa Blunt Rochester (D-DEl.), the first Black woman to serve from Delaware in Congress. With a key endorsement, Blunt Rochester is perhaps in the best position to ascend to the Senate, but as we mentioned, she's far from alone.
In Maryland, Senator Ben Cardin is also retiring, and Prince George's County Executive Angela Alsobrooks is running to fill his seat. Alsobrooks is facing a competitive field, but her name recognition in Prince Georgia County, the second largest county in the state and a Democratic stronghold, could be a massive advantage in the upcoming race.
Congresswoman Barbara Lee, who is running to replace Senator Diane Feinstein, is also a serious challenger for the Senate. The Root spoke to Rep. Lee (D-Cal.) earlier this year:
"The Senate needs my perspective," says Lee. "Someone who has been a champion of progressive values...and in fact been able to turn a lot of my lived experiences as a woman as an African American woman, a woman of color, into public policy."

Only two Black women have ever served in the Senate, Vice President Kamala Harris and Senator Carol Moseley. Lee says that Black women's experiences intersect deeply with the core issues in our country, but for far too long, we've been excluded from the halls of power.
In our interview, Rep. Lee made a case for why she thinks she can win despite so far not having raised as much money as her opponents;
"When you at Mayor Karen Bass, for example, she raised over $9 million. Her opponent raised over 100 million," says Lee referencing Bass's victory in the Los Angelos Mayoral race over Real Estate Developer Rick Caruso. "It's about how you connect with voters."
Money aside, Lee has the backing of influential young progressives like Congresswoman Ayanna Pressley, who officially endorsed Lee in May. Rep. Pressley spoke to the Root about her relationship with the California Congresswoman in March.
"She has truly been an inspiration," says Pressley. "And it is surreal to say that this is my big sister and someone that I can pick up the phone to call for sound counsel or simply sisterhood."
In Michigan, Michigan Board of Education President Pamela Pugh is also running for Senate. Pugh is in a slightly more difficult position since Michigan is a swing state. Biden won Michigan in 2020, but Trump famously won the state in 2016.
With all of these Black women running, there's a pretty good chance we could see Black women reclaim or even expand their presence in the Senate.