Twenty-six years ago this month, Whitney Houston won her first Grammy for best female pop vocal performance for the classic "Saving All My Love for You." The newcomer at the time beat out other divas like Madonna, Tina Turner and Pat Benatar.
Beyoncé's Feminist Anthem "Run the World (Girls)" A Decade Later
This 1986 Grammy win would begin a streak of 415 career awards, from the American Music Awards to the Guinness World Records. On Feb. 11, 2012, the day before the 54th Annual Grammy Awards, Whitney Houston was reported dead at age 48.
Her exact cause of death has not been confirmed. But sadly, the public deterioration of the six-time Grammy winner has played out relentlessly in the media since the 1990s. Nonetheless, it's shocking to be eulogizing the late, great Whitney Houston.
It's rare for the public to so ferociously root for someone to beat addiction. We cheered for her on every comeback, hoped she'd regain her golden voice and prayed that she would let go of whatever demons were haunting her. In 2009 the world tuned in to The Oprah Winfrey Show and heard Houston say she was "back" — the drugs were behind her. But then a series of bad performances followed, and as recently as Thursday, she was photographed looking extremely unhealthy.
G/O Media may get a commission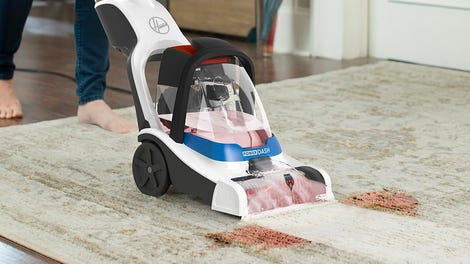 26% Off
Hoover PowerDash Pet Compact Carpet Cleaner
But then there is the legacy of Whitney. The Newark, N.J., native created the sound track for a generation with pop and R&B classics like "You Give Good Love," "Greatest Love of All," "I Wanna Dance With Somebody" and, of course, "I Will Always Love You." With the exception of Diana Ross, no black female artist before her transcended race and musical genres like Houston.
If you think Beyoncé or Adele rules the charts now, Houston in the 1980s was record-breaking: She's the only artist to have seven consecutive No. 1 Billboard Hot 100 hits, and her 1985 debut album was the best-selling album by a female artist.
And then there was the voice. Her vocal cords seemed to be touched by God, Buddha, Allah and Shango. The notes were at perfect pitch, her riffs were effortless but not overdone and she offered a unique hybrid of pop and R&B. She was the black Barbie — America's sweetheart.
Even when she was coined a sellout, booed at the Soul Train Awards and said to be part of the "Rhythmless Nation" on In Living Color, her talent was clearly unmatched. Houston was the voice and the standard that every American Idol, X Factor and any other reality-show competitor aspires to be.
What is perhaps most upsetting about her death is her very public fall from grace. Watching the people who were part of the fiber of your musical memory falter so profoundly and publicly is shocking; it's like watching a family member struggle — you feel you know the person.
I didn't want to believe the black Barbie was going down a road reserved for rock stars and bad boys of R&B. Many people blame Houston's struggles on Bobby Brown, to whom she was married from 1992 to 2007, but she was an individual who made her own decisions.
On July 21, 2009, I attended a listening session for her I Look to You album, which was hosted by Clive Davis at Jazz at Lincoln Center in New York City. The event was packed with stars such as Alicia Keys, Diane Sawyer and Martha Stewart. At the end, Houston, who looked healthy, grateful and beautiful, took the stage and gave a small speech.
Only a few feet away from her, I was starstruck and just stared, hoping I could soak in just a dab of her talent. I whispered to my friend, nearly in awe, "That's Whitney Houston!" The crowd cheered; she was loved more than ever.
Now that she's gone, the first few lines of "I Will Always Love You" are eerie: "If I should stay/I would only be in your way/So I'll go, but I know/I'll think of you every step of the way/And I will always love you."
Rest in peace, Whitney Houston.
Clay Cane is a New York-based journalist. Follow him on Twitter.
Like The Root on Facebook. Follow us on Twitter.