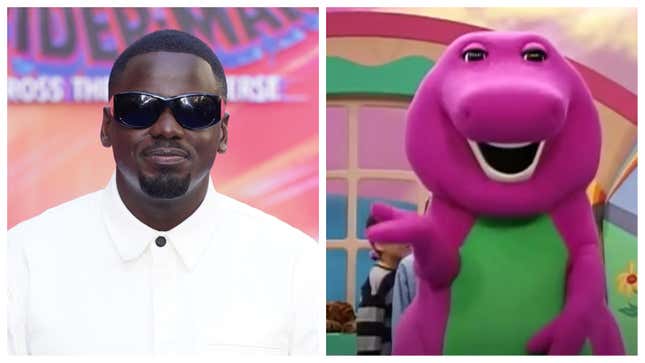 Given all the buzz surrounding Mattel's forthcoming Barbie film, it seems the giant toy company is ready to break the box (and the box office) to bring audiences more movies centered around their childhood faves. One that's already driving buzz and curiosity is the upcoming Barney (yes, the purple dinosaur Barney) film with Daniel Kaluuya.
Gossip Girl Star, Grace Duah, Plays That's So Random
Initially announced back in 2019, the Across the Spider-Verse star signed onto produce the movie about the "ubiquitous figure," but we haven't heard much about it since then. Or, at least, that was the case until Mattel Film's producer Kevin McKeon gave us some insight on how the project was shaping up.
Speaking in a recent interview with The New Yorker, McKeon said:
"We're leaning into the millennial angst of the property rather than fine-tuning this for kids. It's really a play for adults. Not that it's R-rated, but it'll focus on some of the trials and tribulations of being thirty-something, growing up with Barney—just the level of disenchantment within the generation."
He later added that the project would be in the style of an"A24-type" film in that "it would be so daring of us, and really underscore that we're here to make art."
As to why he signed onto the project, Kaluuya said at the time, "Barney was a ubiquitous figure in many of our childhoods, then he disappeared into the shadows, left misunderstood. We're excited to explore this compelling modern-day hero and see if his message of 'I love you, you love me' can stand the test of time."
Wow, so we've got: a purple dinosaur, millennial angst, possible PG-13 rating, and disenchantment wrapped up in an A24-style package? Though I am not in the least bit more clear on the actual plot and premise, given the context clues, Kaluuya's involvement, and the enticing allure of the upcoming Barbie film—I am at the very least very intrigued.