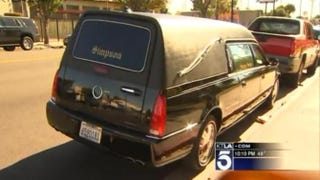 Around 11 a.m. Saturday, a South Los Angeles family was preparing to hold a funeral service for Jonté Lee Reed, 19, at Ebenezer Baptist Church. As the family drove to the church, they received a call from the funeral director telling them that the hearse with Reed's body had been stolen.
According to television station KTLA5, the funeral director had left the hearse idling in front of the church while he went inside to attend to matters related to the service. That is when a man whom police have not identified hopped into the hearse and took off, driving past Lee's family.
Members of the family gave chase and forced the driver to pull over, according to Shirley Little, wife of pastor Kenneth Little, who spoke with the news station.
Witnesses who saw Lee's family and the man arguing called police. According to the news station, the man was arrested and charged with auto theft and will undergo a psychiatric evaluation.
"Even with all of that occurring, the service for this gentleman was only 30 minutes late, and it was nice," Little told the news station, then added, "This is truly one for the books."
Read more at KTLA5.