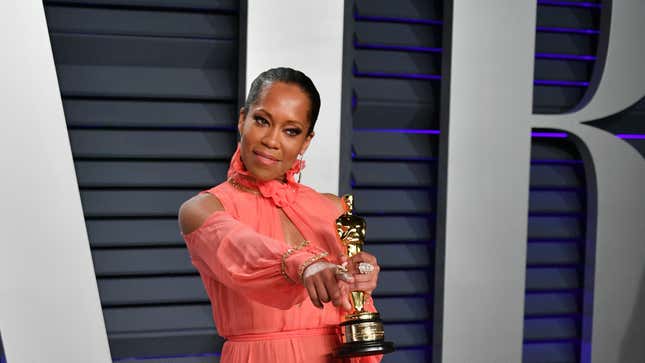 Regina (The) King has some prosperous news.
Per an official press release from Netflix:
Netflix has entered into a multi-year first look deal with director, producer, and award winning actress, Regina King. King's production company Royal Ties is entering into the first-look deal to produce films and series for Netflix. Her sister, Reina King, will serve as head of production of the shingle.
Here's How Medicaid Expansion Can Play A Role In Black Maternal Healthcare
First off, shout-out to the sisterly black excellence. As The Root's managing editor Genetta Adams pointed out, "Regina" means "queen" in Italian (as well as Latin and Romanian) and "Reina" means "queen" in Spanish. Thus, these two super siblings are "Queen Kings!" [Editor's note: No, I said that. See below. — Maiysha]
"Regina King is a multi-faceted talent both behind and in front of the camera. She's been a trailblazer for years, with boundless creativity and impeccable taste in projects, and we couldn't be more thrilled that she will bring her formidable talents to Netflix," Ted Sarandos, Chief Content Officer of Netflix, said in the press release.
Multi-faceted, indeed. From her beginnings as a talented child star, King has had a rich and robust career. Recently, she enjoyed a triumphant awards season, scoring a Lead Actress in a Limited Series Emmy for her role as Latrice Butler in Seven Seconds and the Best Supporting Actress Academy Award for her stunning portrayal as Sharon Rivers in Barry Jenkins' If Beale Street Could Talk. Now, this. Clearly, she has no plans to stop this fabulous momentum.
"I am beyond thrilled to join the Netflix family," King stated. "They are at the top of their game and as an artist I am so excited to come play in this wonderful sandbox they have created for storytellers."
No official word on the deal's price tag, but I'm sure King is content and smiling from her throne, since she's certainly not new to the game. King will also be starring in Damon Lindeloff's upcoming Netflix series Watchmen.
For those of you keeping up at home, Netflix has also scored blackity black huge deals with bigwigs such as Shonda Rhimes, Ava DuVernay and Kenya Barris—oh, and the Obamas. King is in great company.