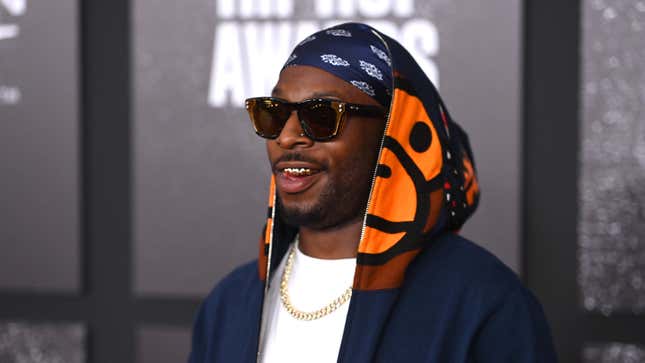 Rapper Isaiah Rashad is opening up about the leaked sex tape that went viral online back in February.
Donald Glover's Swarm Is Our Black TV Pick of the Week
Per Rolling Stone, the "Smile" rapper addressed the tape and his sexuality during an interview with Joe Budden on Patreon. In it, Rashad revealed that he identified as "sexually fluid" and that the realization of that was a gradual progression over the last few years. He then went on to explain how he was in a monogamous relationship and that he was lucky to have found a partner who understands themselves in a familiar way just like he has.
"I'd say I'm sexually fluid," Isaiah revealed. "I'm still learning about it myself. I'm putting my head in the books to find out the basics of it. But basically, I'm not in full control when I walk into a room of who I'm attracted to. And just 'cause I grew up in high school I dated this type of person, in college dated this type of person, it doesn't necessarily mean that as an adult that it's gonna always be, like, specific. But I'm more so attracted to a personality, and I'm attracted sometimes to the intellect. And sometimes it just being attracted to somebody."
He continued, "Luckily I date someone who has a similar understanding of themselves in that way. I was lucky to understand it, she's put me onto a lot of stuff that I didn't even understand."
Of the leaked sex tape, Rashad went on to further explain how the first couple days were "weird" for him after the video came out as he was "in his head" and concerned about his family for a myriad of other reasons. Chief among them was his grandmother, who was battling cancer, and his grandfather, who died from a stroke two days after the leak.
"I knew eventually I was gon have to talk to somebody or talk about it," he explained. "Or people was just gonna ask me about it or come up with assumptions. And I had to know, in that moment, I had to be OK with it. If I don't wanna act like other people who I see come outside of themselves because of other people, I kinda have to have that conversation with myself to be like 'you know, people might treat you differently.'"
The TDE artist later went on to explain how he had no plans of pursuing legal action against whoever leaked the tape, noting that "out of everything, it's been a blessing that, with that happening, my granddad dying a couple days afterwards, and my grandma going through what she's been through, it's been a concentration of family together, more than they've been before. So, if anything, I can't be mad at everything about it. Always gotta look at the brighter side of stuff."