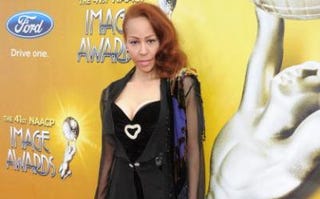 EURweb is reporting that R&B chanteuse Vesta Williams was found dead in a Los Angeles hotel room.
An Ohio native, Williams moved with her family as a child to Los Angeles, where she appeared on television as part of the singing group the Williams Sister. As an adult, she moved back to Ohio, joining the group Wild Honey, led by her cousin, the late Ron Townsend of legendary R&B group the 5th Dimension.
After her time with Wild Honey, Williams began singing jingles for television commercials for companies like McDonald's, Coca-Cola and Honda. She also worked as a background singer for Chaka Khan and legendary crooner Luther Vandross before making a comeback in the recording industry as a solo artist.
In 1986 she burst onto the scene as a solo artist with her hit "Once Bitten, Twice Shy," off her debut album Vesta. In 1988 she released Vesta-4-U, which produced the hits "Sweet, Sweet Love" and  "Congratulations," which may be her most popular hit.
According to her official website, Williams collaborated with a myriad of writers, producers and performers, including Lee Ritenour, Brian McKnight, Gerald Albright, Shanice Wilson and Chuckii Booker. She also sang background vocals for Sting, Gladys Knight, Anita Baker, David Benoit and Bobby Womack. Williams struggled with her weight at one time, losing more than 100 pounds over the course of her career. She also ventured into acting with a role in Mario Van Peebles' 1993 film, Posse.
Details are still emerging about the singer's death. It was widely reported that she was 48, but in this December 2010 interview, she said she was 53.
In other news: House Passes Spending Measure; Gov't Shutdown Looms.