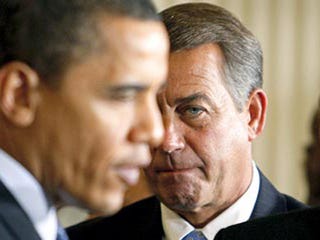 The Washington Post is reporting that the Republican-controlled House of Representatives has passed a GOP-authored short-term spending measure. The measure is designed to keep government running through Nov. 18 of this year. Democrats in the Senate immediately vowed to reject the measure because of a provision that would pair increased funding for disaster relief with a spending cut to a program that makes loans to car companies to encourage the production of energy-efficient cars.
Without a resolution, the Federal Emergency Management Agency's disaster-relief fund will run out of money early next week, and the rest of the government would be forced to shut down Oct. 1. Rosalind S. Helderman and Paul Kane of the the Washington Post report:
"Friday's vote marked a reversal of fortunes for House Speaker John A. Boehner (R-Ohio), who after losing Wednesday's vote found himself roaming the contours of a familiar dilemma — capitulate to fiscal hawks in his own party who want to spend less, or compromise with Democrats who want to spend more."
We've got a suggestion. How about doing what's best for the people? Cutting disaster-relief funding clearly is not what's best for the people. What's the problem? Are there not enough clean-up contracts going to Republican donors? Cutting funding for people who have lost everything because of a natural disaster makes no sense at all. In fact, it is yet another example of those who claim to be patriotic but engage in unpatriotic behavior, like being unwilling to help fellow Americans during times of great need.
Read more at the Washington Post.
In other news: 4 Questions With Aisha C. Moodie-Mills.