EURweb is reporting that Queen Latifah will produce and star in an AOL Web series about sports, entertainment and entrepreneurialism, which will be overseen by Arianna Huffington, co-founder of the Huffington Post. "It's great having a company that's supportive of doing the same kinds of things and looking to the future, as opposed to trying to hold on to how things were in the past," Latifah told the Hollywood Reporter.
One project Latifah is eyeing in particular is a sports-themed talk show for women. Her production company Flavor Unit will produce the shows, and she promised to have a regular role in at least the first three projects.
"I'm kind of the Barbara Walters," she added. "I'll definitely float in and out."
In return for her efforts, Latifah will benefit from the larger reach (15 million visitors head to AOL's home page daily) as well as the marketing push and creative flexibility the company offers.
Queen Latifah is part of a recruitment effort by Tim King to bring in Hollywood heavyweights to revitalize AOL. This is a good start. We're still interested in finding out what AOL's recent purchase of the Huffington Post means for Global Black. This seems like the perfect project for that brand. Time will tell. In the meantime, "All Hail the Queen."
G/O Media may get a commission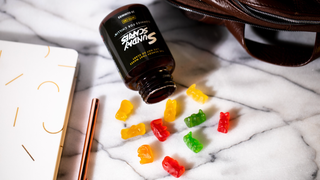 10mg CBD Gummies (22-Count)
Read more at EURweb.
In other news: Rodney King Anniversary: Pulled Over by Police the Day Before.