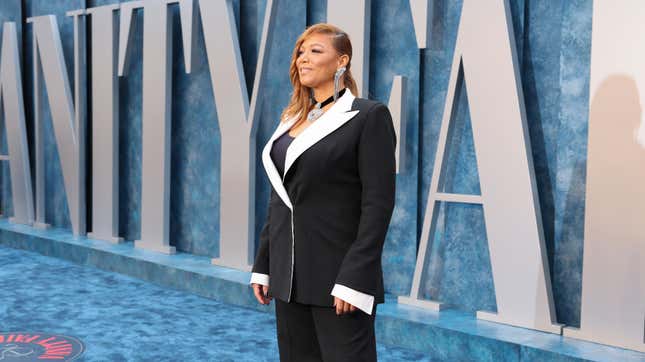 Queen Latifah may have made history as the first female hip-hop artists to get nominated for an Oscar back in 2002, but now, over 20 years later, she's doing it once again—this time for the National Recording Registry.
How Queen Latifah's "U.N.I.T.Y." Stood Up For Black Women Against Domestic Violence
Per NPR, the rapper and actress is now the first female hip-hop artist to have her music inducted into the prestigious institution on Wednesday. The work selected for the honor is her debut album, All Hail the Queen, which was released back inn 1989.
"The National Recording Registry preserves our history through recorded sound and reflects our nation's diverse culture," Librarian of Congress Carla Hayden said in a statement. "Her [Queen Latifah's] album showed rap could cross genres including reggae, hip-hop, house and jazz—while also opening opportunities for other female rappers."
In addition to the only Queen we acknowledge, iconic singer and multi-award winner Mariah Carey was also inducted into the NRR for her highly popular song (and arguably the best Christmas song on Earth), "All I Want for Christmas Is You." Other notable inductees include Wynton Marsalis for "Black Codes (From the Underground)," Irene Cara's "Flashdance...What a Feeling," Madonna's "Like A Virgin," the Super Mario Bros. theme by Koji Kondo, and Daddy Yankee for "Gasolina."
Queen Latifah can currently be seen on the hit CBS drama, The Equalizer. She also ushered in the fourth season of her short film series, Queen Collective on BET, BET Her, BET Soul, BET Jams and Pluto TV. The series features projects from women and non-binary filmmakers of color and seeks to shine a light on their projects as well as provide resources to help further their creative journeys.
Speaking to The Root about the collective, Queen explained: "By being in a position that I am…I didn't want to just make more movies and make a whole ton of money. I wanted to be able to produce films, that way I could make sure that when I look past that camera, when I look behind it, I could see a diverse group of people back there working in every department."