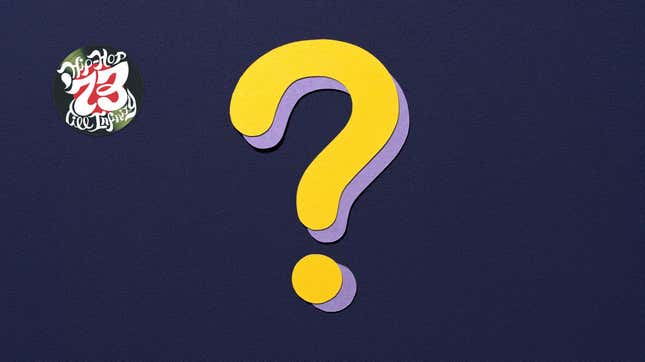 This story is part of our new Hip-Hop: '73 Till Infinity series, a celebration of the genre's 50th anniversary.

My Hip-Hop Story: Sway Calloway Felt Like a Superhero Living Through The Genre & Culture's Early Years
Celebrating 50 years of hip-hop has been all of the rage and for good reason. The last century has seen the genre grow in ways I'm not even sure the forefathers could imagine. It's not only one of the most popular genres in the world, but it's the compass that moves American and world cultures in a different direction. Anything considered "cool," "trendy" or "anti-establishment" can be traced back to hip-hop.
While it's important to honor what has happened, it's also essential that we look toward the future. What will hip-hop look like 50 years from now? How will we make sure its history isn't forgotten?
To answer those questions, I spoke to Professor Maurice Johnson who's served as a professor at Florida A&M University and Florida State University. He uses hip-hop as a tool to teach students about American history and culture. Here are his thoughts.

The Root: What made the first 50 years of hip-hop so groundbreaking and impactful?
Professor Maurice Johnson: The fact that it came out of the streets and emerged as a global billion-dollar industry. It came from nothing, you know what I'm saying? Now it's responsible for feeding so many families and taking them out of poverty. Unfortunately, Hip Hop has also continued the tradition of Black music being successfully commodified and exploited.
TR: Hip-hop culture is not just Black culture, it's now popular culture. Will that continue for the next 50 years? If so, is that a good thing?
MJ: It must be continually recognized as Black culture. All of Black culture is mainstream popular culture, not just Hip-Hop. Everything we do is 'the cool.'
During the next 50 years, I think we need to do a better job of gatekeeping and vetting who we allow into our culture and who we allow to critique it. I often get annoyed at music reviews by culturally incompetent critics. I hope it's made abundantly clear who is welcome in hip-hop culture and who's just a guest.
TR: I think one thing hip-hop fans forget is that the genre is still relatively young, compared to rock or soul. What's one thing that needs to change or improve about the genre to ensure that its art lives on forever?

MJ: We must make sure false representations of the genre aren't accepted as fact. For some individuals, gangsta rap is the de facto representation of rap. For others, it's trap music. Ultimately, we gotta do a better job of archiving history and making sure that it is preserved. We need to make sure that it continues to have a presence in academia and school so that people can learn hip-hop history. Learning the history of hip-hop culture is just as important as learning about any other culture's history. Hip-hop is a reflection of American society. It's American history from a particular perspective.
When you look at who controls the music industry, it's not people who look like us. We need to control the art form on a corporate level. Whether that's the message we're putting out or how we're getting compensated.
TR: Now more than ever, hip-hop is a young man's game. It feels like every year a new 17-year-old pops off. But there should be a place for aging artists to have excellent music going into their 50s and 60s. How do we ensure that aging legends still have an audience and don't get lost in the new music landscape?
MJ: Ultimately, hip-hop is always going to be commandeered by the spirit of the youth. But while it's a young genre of music, it still has multiple generations. Some generations don't care about this new music and the kids who say "x artist" is the best. Kids can laugh at OG artists but the OGs are laughing at them too.
There are still artists that are recognized by multiple generations as premier hip-hop artists (Nas, Jay-Z, Killer Mike, Pusha T, Black Thought, etc.)
TR: Something that scares me is that as we get further away from groundbreaking albums from the 1980s and 90s, people will forget about them. How do we ensure that they're remembered even 50 years later?
MJ: Hip-hop media has to continue being prominent. Things like the Hip-Hop Evolution series on Netflix and The Dear Mama documentary on Hulu. There has to continue to be more content created on hip-hop and not just monetized because it's the 50th anniversary. Media entities that aren't normally involved in hip-hop or write about music are doing something for the anniversary.
TR: What's the importance of education in hip-hop and how will it positively affect the genre in the future?
MJ: Research has indicated that using hip-hop in the classroom has a positive impact on student engagement, which impacts academic achievement. Hip hop being studied at the university level ensures that it will be analyzed in a scholarly manner and that it will continue to flourish as a tool of teaching.