In October 2017, weeks after Hurricane María first made landfall in Puerto Rico, Donald Trump praised Governor Ricardo Rossello on the disaster's low death toll.
"Every death is a horror, but if you look at a real catastrophe like Katrina, and you look at the tremendous— hundreds and hundreds and hundreds of people that died— and you look at what happened here with really a storm that was just totally overpowering, nobody's ever seen anything like this," Trump said during a press briefing.
"You can be very proud of all of your people, all of our people, working together," Trump continued. "Sixteen versus literally thousands of people. You can be very proud."
At the time, people knew the count of 16 was low. Eventually, the official toll would rise to 64—though outside groups warned that number of deaths attributable to Hurricane María, was far, far higher.
Yesterday, a study commissioned by the Puerto Rican government returned the true toll of the storm: 2,975 people died between Sept. 2017 and Feb. 2018 due to the disastrous storm and its effects.
G/O Media may get a commission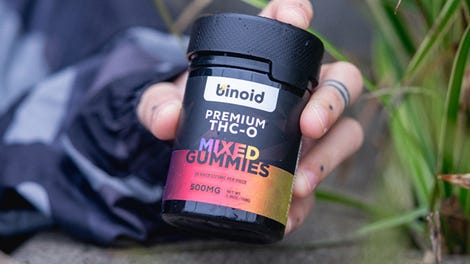 25% Off + Free Shipping
Binoid THC-O Gummies
The analysis was completed by George Washington University's Milken Institute School of Public Health. Earther reported that the study also found low-income neighborhoods were disproportionately targeted by the storm.
"The lack of power was a major contributor to deaths, as people lost access to medical devices and refrigeration for medicine," wrote Earther.
As journalist Ken Klippenstein noted on Twitter, this is roughly the same count as the number of people who died in the 9/11 terrorist attacks in 2001. That death toll from the three different sites—the World Trade Center, the Pentagon, and a plane that was downed near Shanksville, Penn., totaled 2,996 people.
This makes Hurricane María one of the deadliest natural disasters in U.S. history—and the deadliest of the last century, eclipsing the death toll of Hurricane Katrina in 2005. Approximately 1,833 people died as a result of that storm.
According to CBS, only two another natural disasters in the U.S. killed more people: a hurricane that struck Galveston, Tex., in 1900 which killed more than 8,000, and the 1906 San Francisco earthquake, which killed more than 3,000.
While the Trump administration drew widespread criticism about its response to Hurricane María since the recovery effort began, yesterday's updated death toll renewed calls for Trump to be held accountable for the disastrous response. Sen. Elizabeth Warren tweeted Tuesday night that the White House "utterly failed in their response, and US citizens died."
But in yesterday's White House press briefing, Sarah Huckabee Sanders defended the administration's response, calling it the "the largest domestic disaster response mission in history," according to Time.
She added that Trump "[remained] proud of all of the work the Federal family undertook to help our fellow citizens in Puerto Rico."