No doubt that a panel of thinkers about race would have said the same thing even if they hadn't just seen portions of Henry Louis Gates Jr.'s PBS documentary "Black America Since MLK: And Still I Rise." They concluded nevertheless that the impending presidency of Donald J. Trump demands that black America fight back. And white America, too.
"The worst thing we could have for the new administration is hopelessness," Eleanor Holmes Norton, delegate to Congress from the District of Columbia and longtime civil rights lawyer, said Monday night at Washington's Brookings Institution. "If it doesn't raise the fight in you to have Jeff Sessions as the attorney general, then we are brain dead."
Michael Eric Dyson, the social critic and Georgetown University professor, agreed, saying, "We've been here before. We can overcome. We challenge this with every fiber of our being."
James Peterson, director of Africana studies and associate professor of English at Lehigh University, said more students cried in his office after this month's election than after the Sept. 11, 2001, terrorist attacks. "The anguish that you feel on 11/9, carry that with you," he urged those similarly distraught.
G/O Media may get a commission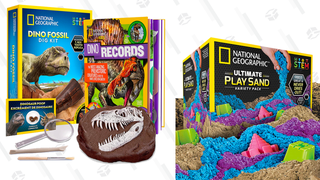 Up to 33% off
National Geographic Science and Activity Kits
The sole white member of the panel, Richard Reeves, a British native who is senior fellow and co-director of the Center on Children and Families at Brookings, declared that "white racism has to be fought by whites."
Journalist Charlayne Hunter-Gault, who moderated the panel, recalled the late Gwen Ifill, the PBS journalist for whom services were held over the weekend. Hunter-Gault is the daughter of an AME pastor, as was Ifill. "We were taught that our history is our armor," Hunter-Gault said. "This series is part of our armor. It's armor for black people. It's armor for white people."
"Black America Since MLK: And Still I Rise" is a two-part, four-hour PBS special that looks at the last five decades of African American history since the major civil rights victories. The second part airs Tuesday, but the entire four hours will be repeated on Sunday, said Sharon Percy Rockefeller, president and CEO of WETA, the Washington public broadcasting operation that partnered with Gates to produce the documentary.
"The timing is impeccable," Rockefeller told the audience. "It was as if he knew what was going to happen," Rockefeller said of Gates. She said the film would be broadcast 4,000 times around the country this month.
The documentary "paints a complex and comprehensive portrait of black America since 1965, while raising urgent questions about the future of the African-American community — and our nation as a whole," according to an announcement.
With its footage of such cultural touchstones as James Brown's "Say It Loud, I'm Black and I'm Proud" and the birth of hip-hop in the South Bronx, all culminating in the election of President Obama, the documentary was crafted to prompt an evaluation of how far the nation has come.
The panelists saw assertive black self-expression in both the Afros of the 1960s and the natural hair movement today, in both "black is beautiful" and Black Lives Matter, and they observed a continuing centrality of black culture in American culture. However, Dyson said whites embrace cultural blackness until it comes to paying the "black tax" of discrimination. "My next book is on whiteness," Dyson said, adding for Journal-isms later that its publication date has been advanced from March to January because of the current climate.
Referring to white people, Reeves said, "Equality feels like a loss to those who were unfairly ahead." He quoted James Baldwin as saying no one became white before becoming an American. Norton said that globalization accounted for the loss of status of American white men, but Dyson said that "poor whites have been sold a bill of goods that it's the bogeyman [of people of color] who are responsible. The average voter for Trump makes $72,000." What's being lost are the "psychic wages of whiteness."
Reeves called it a "stalled century" for blacks, "hidden by the election of Barack Obama."
In the film, Gates says, according to columnist Tony Allen in the News Journal of Wilmington, Del., that "the percentage of African Americans making at least $75,000 more than doubled from 1970 to 2014, to 21 percent. Those making $100,000 or more nearly quadrupled. By contrast, Black [Americans] with income below $15,000 declined by only four percentage points, to 22 percent. And the unemployment rate for African Americans overall is virtually the same as it was when the civil rights movement ebbed circa 1970. . . ."
Norton reminded listeners that the civil rights movement was not an economic one, and said, "When it gets to economic mobility in 2016, you're talking about Western society, in Europe and the United States. . . .
"It's not a zero sum game, but it appears that way.
"If there was ever a time when you need truly great leadership and we don't have it, this is the time."
Todd Steven Burroughs, The Root: Black Intellectuals, Activists Assert Themselves in Trumpland
Meredith D. Clark, Ph.D., Poynter Institute: Why did newsrooms miss the Trump wave? Lack of diversity played a huge part
Editorial, New York Times: Donald Trump Rages, at the Wrong Target
Charlayne Hunter-Gault, "PBS NewsHour": As racial hate groups rise, strategies to shut them down (March 25)
Sherrilyn Ifill, NAACP Legal Defense and Educational Fund: Sherrilyn Ifill on the 2016 Presidential Election (video)
Darren Sands, BuzzFeed: As A Broader Movement, Black Lives Matter Braces For Trump's Presidency
Jason Squitieri, CNN: BET founder: Trump 'committed to reaching out to African-Americans'

Trump Vents After Summoning Anchors, TV Execs
"Executives and anchors from the country's five biggest television networks met with President-elect Donald Trump at Trump Tower on Monday afternoon," Brian Stelter reported Tuesday for CNN Money.
"And they got an earful.
"Trump vented about media coverage, according to sources who spoke on the condition of anonymity. He was highly critical of CNN and other news organizations.
"But while Trump showed disdain for the news media, he also answered questions; listened to the journalists' arguments about the importance of access; and committed to making improvements. . . ."
Stelter also wrote, "NBC's Chuck Todd and Lester Holt; CNN's Wolf Blitzer and Erin Burnett; CBS's Norah O'Donnell, Charlie Rose, John Dickerson, and Gayle King; and ABC's George Stephanopoulos, David Muir and Martha Raddatz were some of the anchors seen entering Trump Tower shortly before 1 p.m.
"Several executives from the network news divisions were also spotted on the way into Trump Tower, including ABC News president James Goldston; CNN president Jeff Zucker; Fox News co-presidents Bill Shine and Jack Abernethy; NBC News president Deborah Turness; MSNBC president Phil Griffin; and CBS News vice president Chris Isham.
"There was much for the group to talk about. Trump has long-standing relationships with many in the TV news business — but he also waged an anti-media crusade during his campaign for president. . . ."
Meanwhile, Sydney Ember reported for the New York Times, "The strained relationship between Donald J. Trump and The New York Times took an odd path on Tuesday when a planned meeting between the president-elect and the newspaper was abruptly canceled by Mr. Trump and then quickly rescheduled.

"After a morning of back-and-forth statements and Twitter posts, Mr. Trump arrived at midday for a meeting with Times representatives at the paper's Midtown headquarters. Seated next to the publisher, Arthur Sulzberger Jr., in the paper's Churchill Room, he said he had great respect for the paper but thought its treatment of him had been 'very rough' . . . "
Paul Farhi, Washington Post: A defiant Trump blasts TV news in private meeting — then snubs New York Times
Michael M. Grynbaum and Sydney Ember, New York Times: Trump Summons TV Figures for Private Meeting, and Lets Them Have It

Trump News Blocking Out Standing Rock?
"Outside a triage tent at the foot of the Oceti Sakowin Camp, frantic chatter and whirring generators fused with the familiar drone of police surveilling in the night sky," Jenni Monet reported Monday for the Indian Country Today Media Network.
" 'We have seen four gunshot wounds, three of them to the face and head,' said Leland Brenholt, a volunteer medic.
"By gunshots, he insinuated that rubber bullets had been used on hundreds of people clashing with police. Conflict erupted again over the Dakota Access pipeline near the Standing Rock Sioux reservation, Sunday night.
" 'This is still not on mainstream media,' Brenholt sighed. 'I'd like to know why,' he sang in a facetious sing-song voice.
Brenholt also wrote, "In the aftermath of the presidential election, the battle at Standing Rock's now largely been blacked out by a news cycle dominated by a perplexing President-elect. In recent weeks there's been an uptick in coverage over the pipeline, but at times, cycled in a seemly pattern of media convenience. That Trump is a known investor in Dakota Access helps keep the battle at Standing Rock relevant. . . ."
Jim Naureckas, Fairness & Accuracy In Reporting: 'Nothing to See Here' Headlines Conceal Police Violence at Dakota Access