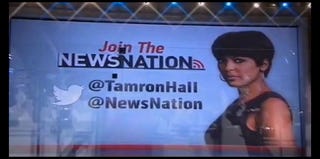 Prince composed new theme music for MSNBC's Tamron Hall: The host of News Nation unveiled the new music recently and blew the competition out the water, the Huffington Post reports. That's because it was composed and performed by none other than the maestro himself. That Prince does like the beautiful women!
First lady Michelle Obama was among several luminaries whose financial data were revealed by hackers: The LAPD — whose top cop, Charlie Beck, was among those victimized — is trying to track down the hacker who supplied material to the website, police sources said, according to the Daily News. Jay-Z, Beyoncé, Hillary Clinton and 12 other big-name entertainers and political figures were hit by the site, exposed.su. The page for the first lady features an "I (heart)" sign with a drawing of her face. But the hacker appears to have a beef with the president: "Blame your husband, we still love you, Michelle," a statement on her page says.
Michael Vick cancels his book tour because of threats: The Philadelphia Eagles' quarterback was scheduled to sign copies of his autobiography, Finally Free, at Barnes & Noble stores in Atlanta, New Jersey and Pennsylvania, the Associated Press reports. But the events were canceled after threats were made against Vick and store employees for his role in a dogfighting ring, for which he served 18 months in federal prison. Maybe he's not finally free.
Applying for benefits under president's health care overhaul may not be easy: The Associated Press reports that the government's draft application is 15 pages long for a three-person family, and the online version has 21 steps, some with added questions. In addition, at least three major federal agencies, including the IRS, will evaluate your application.