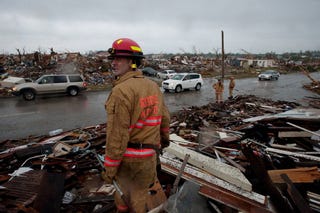 Reuters is reporting that President Barack Obama said on Tuesday that he will visit a devastated section of Missouri on Sunday where 116 people were killed by a monster tornado.
Obama, making a statement from the U.S. ambassador's residence in London as he begins a state visit to Britain, said his message to those affected by storms in the Midwestern United States is that the federal government stands by them.
"All we can do is let them know that all of America cares deeply about them and that we are going to do absolutely everything we can to make sure that they recover," he said.
Obama is on a weeklong, four-nation European tour and is to return to Washington on Saturday.
"Like all Americans, we have been monitoring what's been taking place very closely and have been … heartbroken by the images we've seen," Obama told reporters.
He said that beyond the death toll, other people remain missing and hundreds more were injured. "Our thoughts and prayers are with the families who are suffering at this moment," he said.
We're glad that President Obama is visiting the site of the tornado devastation in Joplin. We were in the midst of counting down to the attack on him for drinking Guinness beer with his homies as opposed to demonstrating concern for the people suffering in the United States. This was definitely not a good look. Acknowledging the suffering and planning a visit to the area should quiet critics — at least momentarily. We won't mention that it's the right thing to do.
Read more at Reuters.
In other news: Rick Ungar: 'Obamacare' Is Working.
Like The Root on Facebook. Follow us on Twitter.